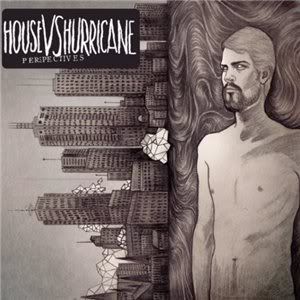 Release Date: March 5th, 2010
Label: Shock Records
Website: None available
MySpace: www.myspace.com/housevshurricane
Rating:


House Vs. Hurricane need you to buy this album. Forget pirating, borrowing and ripping from a friend's CD or any other method that doesn't involve your cold, hard cash ringing through the Austrailian six piece's collective bank account. Mind you, they're not after some inflated sales figures or a dollar sign confirmation that they're not wasting their time, they just desperately need the pennies to at least rent the trial version for a new synth sound. For a band constantly placing their keys at centre stage, they've somehow forgotten to invest in anything other than what sounds like a flimsy, plastic keyboard the Early Learning Centre's music section would be embarrassed to offer up for sale.
Claiming their music as "progressive post-hardcore" and "cinematic hardcore", House Vs. Hurricane bumble out a sound that combines the worst parts of From Autumn To Ashes, Enter Shikari and Chiodos that is as exciting as it is representative of the prefixed sub-genre they claim to belong. There is nothing on offer here that isn't shot through absolutely every other below-par "post-hardcore" band apart from an even blander sense of self-convinced satisfaction in their homogenised, cul-de-sac songs.
To call this music cinematic is deluded. It's clear House Vs. Hurricane have talked themselves into believing their efforts are groundbreakingly brilliant when in truth they've cooked up track after track of empty, boring and basic sludge that sends both hearts and minds into yawning comatose.
Out of the twelve songs on offer, 'We, The Reserveless' is possibly the lesser of all the evils. It just about holds itself together without spiralling off into a flaming mess like its track siblings. There's an awful sense of repetition throughout 'Perspectives' with each song melding into one gelatinous, blank glob of boredom. Perhaps it's the aforementioned synths, the samey, predictable path taken by the growled vocals with every unimaginative deployment, or maybe it's the weak, toothless guitars that cling on as passengers throughout the mind grinding, thrill-less ride.
All in all, 'Perspectives' is an album that thinks it's far cleverer than it ever had any hope of becoming. This is a horribly tedious slump of a release by a band who should have been put out of their misery long ago.
Written by Greg Johnson