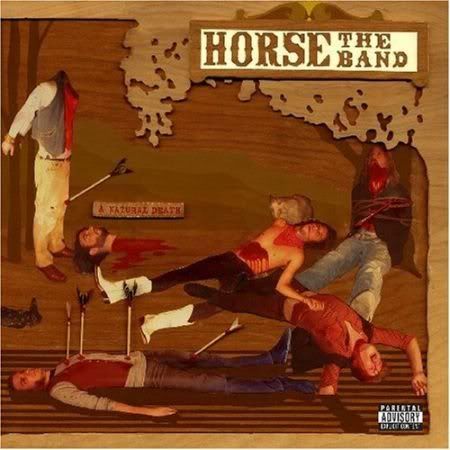 Release Date: August 28th, 2007
Label: Koch Records
Rating: 6/10
Website: www.horsetheband.com
MySpace: www.myspace.com/horsetheband
HORSE The Band's inventive new genre creation of 'Nintendocore' is definitely an original one, and a genre they carry on as strong as ever in 'A Natural Death'. Laced with music you'd hear when playing on your classic Game Boy, or NES console. Combined with the frantic and aggressive nature of this group's music, and you've got computerised chaos.
Tracks like 'Murder' and 'Face Of Bear' are full of 8-bit sounds with the ballistic offerings from the other band members, making a riot of music and emotion, and creating a dance-like underline within the songs while Nathan Winneke's angst fuelled vocal work, coming across like a tyrant. The album gives rests of instrumentals before you feel too overwhelmed with the ferocity of 'A Natural Death', lots of listeners may need the breather it allows.
Though it's arguable that most of the material created by the band sounds just the same as everything else they've done, those with the patience will be rewarded to discover that each song gives across it's own character. 'Kangarooster Meadows' sticks out from the rest of the bunch like a sore thumb, edging more towards a country sound than what else you're to find on 'A Natural Death', and doesn't sound anything like HORSE The Band in any way, shape, or form.
The best moment of the album is the closing full track, 'I Think We Are Both Suffering From The Same Crushing Metaphysical Crisis', which charges like a freight train of force and power, with a perfect blend of hardcore brutality and subtle yet appropriate and original 8-bit Nintendo samples. It holds a rare quite and melodic bridge featured on this album, with the sentence "Time after time" sung with somewhat beauty from such an angry band. The song has so many levels and variations that if there's only one track from this record you hear, it has to be this one.
Being pioneers of the 'Nintendocore' label, HORSE The Band deserve credit for creating something new and exciting in 'A Natural Death', and being able to pull it off so effectively too. Though a lot of their material sounds fairly similar, if you listen over a few times you'll find something a little more.
Written by Zach Redrup