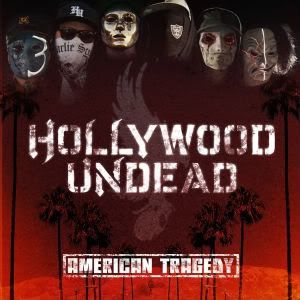 Release Date: April 4th, 2011
Label: Polydor Records
Website: www.hollywoodundead.com
MySpace: www.myspace.com/hollywoodundead
Rating:


L.A. nu-metal group Hollywood Undead have released their second studio album, 'American Tragedy', following the commercial success of their debut, 'Swan Songs'. The album uses a combination of basic rap-style vocals, combined with heavy riffs, huge bass lines and a mixture of synths to create the undeniable sound that is Hollywood Undead. The band have taken a more mainstream approach to this album, dropping the constant swearing and aggression from a lot of the songs, and instead replacing them with a blend of simple rap and catchy choruses that will get stuck in your head for days.
The opening track and first single, 'Been To Hell', starts with a mysterious combination of drum beats and synths, then kicks into a heavy riff and we are away. The song is one of the highlights of the album; it shows the diversity of the band with the combination of hip-hop, rap and rock, using heavy riffs underneath urban-driven verses and melodically catchy choruses. Sadly, the album only goes downhill from here, with the softer more lyrically based songs of 'Apologize', 'Comin' In Hot', 'My Town' and 'I Don't Wanna Die'; these four songs are all very similar, involving less emphasis on the music and more on the very basic and incoherent rapping of Charlie Scene, Jonny 3 Tears and Funny Man.
Second single and arguably second best song on the album, 'Hear Me Now', comes in next and brings the band back to what you want to hear; the lyrics are shrouded in music with riffs and synths combined to make fantastic melodies, with the band using the clean vocals from newly recruited member Danny in the chorus making a very catchy song. This is subsequently followed by an awful attempt at a complete hip-hop track titled 'Gansta Sexy'; the element of hip-hop is seen throughout the album, but normally accompanied with heavy riffs and rampant bass lines. Credit due to them for trying this, but it really does not work and slows an already slow album down to an unbearable level.
It doesn't really improve very much after this, with the repetitively annoying 'Glory', the tame and simple 'Coming Back Down', and the acoustic 'Bullet', the band have clearly decided to go for a different approach in these, and they really just do not work. They make the album sound more like a random mix of songs you would give to a friend who knows nothing about music, rather than a body of work. By this point I had almost given up on this album, but then final song 'Tendencies' gives the album one final breath of life. This goes back to what the band is good at, making solid songs that combine a variety of genres.
Hollywood Undead have gone away from what made them successful in 'Swan Songs', and frankly it's doubtful that this album will any more than a small blip on the radar of most music fans. There are a few songs that make this album worth a listen, but most will find themselves skipping the majority of what's on offer here.
Written by Julian Myles