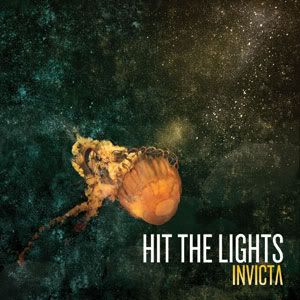 Release Date: January 31st, 2012
Label: Razor & Tie
Website: www.hitthelightsmusic.com
Facebook: www.facebook.com/hitthelightsmusic
Twitter: www.twitter.com/htlband
Rating:

Pop-punk's next big thing Hit The Lights are back with album number three, 'Invicta'. After the huge success of their previous two albums, 'Invicta' has been eagerly awaited for some time now. Plus, it has Yellowcard's Ryan Kay onboard to help write a song or two. However, when you sit down and listen to the album, all this becomes somewhat irrelevant.
Hit The Lights seemed to have outgrown their pop-punk attitude and gone with a more mature and melodic approach, adopting an alternative sound, similar to that of Anberlin. A bold move for sure, but one that I don't think the fans will appreciate much. After all the hype and build up, it just seems like a bit of a disappointment compared with their other albums, and it just comes across as a bit boring and slow. This doesn't mean it's a bad album though, not by a long shot. I, for one, enjoy their new sound and I think it's one that they can pull off well.
Take 'Faster Now' (the song co-written with Ryan Key); a slow, yet powerful and emotive song that pulls at the heart strings and will have you online, looking up lyrics so you can sing along with them. As for the other songs on the album, as good as they are after a while they all tend to blend together. Things tend to pick up towards the end of the album though, faster paced songs and meatier choruses are what this band do best and are what Hit The Lights fans are waiting for.
Final track 'Oh My God' is nothing more than a steaming pile of indie shite though. What possessed them to include this song is beyond me, but all I know is that if this is the musical direction the band is going in, they are going to lose a lot of fans quickly. Harsh words, but this has happened to plenty of other bands in the past.
I can't see much of this album being played live though, its laid back and melodic songs would ruin the tempo of their otherwise fast-paced sound. I can imagine 'Faster Now' and 'So Guilty' would be good to get the crowd singing during the inevitable lull at the half way mark, but other than that, these songs are best left on record.
As a stand alone album, this is a vibrant collection of well written emotive and melodic songs. But, compared with its predecessors, it's a little on the dull side and may disappoint more fans than it pleases. Don't get me wrong, I'm all up for a band to try something new and shake things up a bit, take a look at Less Than Jake and Korn. It's a shame that is didn't work out for these guys. Perhaps on the next album, they should take things back to their roots.
Written by Andrew Roberts