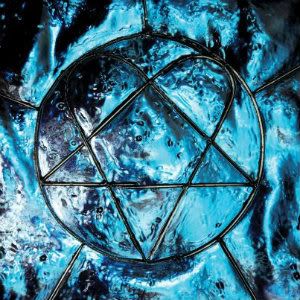 Release Date: October 29th, 2012
Label: Sony Music
Website: www.heartagram.com
Facebook: www.facebook.com/theheartagram
Twitter: www.twitter.com/heartagramteam
Rating:

HIM'XX: Two Decades Of Love Metal'. It's the first release from the band in almost three yeas, but the thought of the album being complete with new material would be a fantasy. It is, or would have been a greatest hits album, aside from the one and only new release: 'Strange World'.
The album kicks off with the aforementioned new track, a cover from the artist KE. It's a track that sums up HIM in four minutes and one of the better covers by the band. The rest of the album is compromised of popular releases throughout their career, from such albums as 2000's 'Razorblade Romance' and 2005's 'Dark Light'.
HIM are the type of band that captures a sound and works it into their songwriting process. They're unique and unusual, but it works for them. The album is a collection of the band at their highest peak, an accumulation of the best songs from a career spanning over 21 years. They're a band that is so diverse in the world of music, that they create an enormous impact in their own right.
'XX: Two Decades Of Love Metal' doesn't only explore HIM's greatest hits, but also how the band have moved along in 21 years; from 1991 – 2012, the band has taken its path in the right direction.
New offering 'Strange World' shows that not only in 21 years that they can still produce great music, but that through the years the band have remained a prominent interest in the music scene.
Frontman Ville Valo, always as ever with his rockstar class and his Finnish charm, makes it look like a walk in the park.
However, HIM aren't back just yet, but they sure are making a statement with this release, a tease in the waterworks, just before next full-length 'Tears On Tape' is due to drop next year. The band have finally provided us something to sink out teeth into and with a sneak peak to what the band still have to offer, their next release has a lot to live up to.
The king of romantic darkness is back and full of life, but just incase you've forgotten how good they are, revisit the past greats with 'XX: Two Decades Of Love Metal'. Now, all there's left to do is to wait until 2013 for their eighth studio album and then there will be no stopping into what this band can achieve.
Written by Yasmin La Ronde