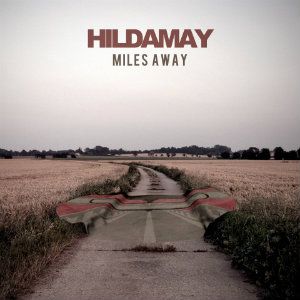 Release Date: November 5th, 2012
Label: A Wolf At Your Door Records
Website: None available
Facebook: www.facebook.com/hildamay
Twitter: www.twitter.com/hildamay
Rating:


Progress. This album is all about progress. Anyone who has heard Hildamay's debut EP 'We Loved We Lost' from last year will be well aware of the incredible amount of potential that this band have in them. So, they'll be very pleased to know that this, their debut album 'Miles Away', is showing some extremely promising signs of fulfilling that potential that was so heavily hinted at previously.
The sound on offer here is a much more refined one than anything they've previously put out. Not to say that they've lost their trade rough edge, but the whole package just sounds more complete and tightly knit. By the end of album opener, 'The Dark', it's already very clear that this a band who mean business and by the time lead single 'Changing The Key' blasts itself into your ears, you can just tell that this album is the product of a hell of a lot of hard work and hunger.
Every aspect of the album sounds completely organic and every line is delivered with raw, honest passion that shines through from the more uptempo numbers, like the aforementioned single, to the darker, more sinister moments on the album such as the opening to (one of the album's many highlights) 'Letters Like Bullets'. It also has to be mentioned that the consistency on the record is first class, there isn't a single song that feels surplus to requirements here, which is a rarity for a 12 track album in such a single driven market.
All in all, this is as solid a debut as could've been asked of them and it more than justifies the recent hype they've had around them, with appearances at Reading/Leeds Festival, BBC Radio One airtime and more. You can bet that there's a hell of a lot more where that came from, especially if the band keeps this form up.
Written by Ryan De Freitas
Founder & Editor for DEAD PRESS!