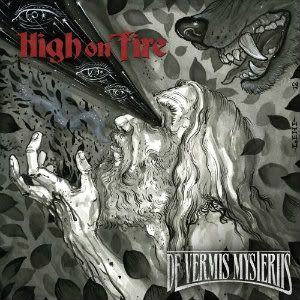 Release Date: April 3rd, 2012
Label: Epic
Website: www.highonfire.net
Facebook: www.facebook.com/highonfire
Twitter: www.twitter.com/highonfireband
Rating:


For anyone who is unfamiliar with High On Fire's work, this is a great starting album as it highlights each individual's talents without any effort whatsoever. Since forming way back in 1998, the trio from Oakland have released six albums, the latest of which hit the shelves on April 3rd, and it goes by the name of 'De Vermis Mysteriis'.
Although their last album, 'Snakes For The Divine' scored relatively low marks across the board, with critics agreeing it lacked energy and felt draining to listen to, fortunately 'De Vermis Mysteriis' doesn't share the same qualities as its predecessor. Kicking off the album is 'Serums Of Liao' a six minute epic of intensely fast-paced riffs and heavy head penetrating, thunderous drum beats. With the undulating solos, there's everything a stoner doom metal fan needs in this one track alone.
'Bloody Knuckles' and 'Spiritual Rights' are blowing down the walls with the intensely cavernous and rapid guitar riffs throughout, making you want to punch things and literally give you bloody knuckles. It's just one thunderstorm after another with this album, never stopping for breath. This band sound like Motorhead on acid as 'King Of Days' plays and instantly blows your speakers three times over. The finale track, 'Warhorn', was made to be played on full volume (all the way to 11), and if you do that you literally want to start a mosh pit in your living room.
If you're not a fan of stoner doom metal, this may give you a headache. But, if you like that music that makes your ears bleed and annoys your neighbours, buy this album.
Written by Louisa Smith