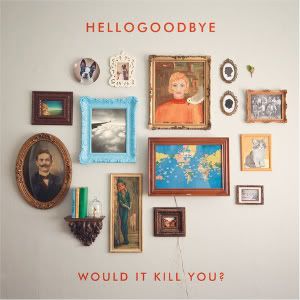 Release Date: November 9th, 2010
Label: Wasted Summer
Website: www.hellogoodbye.net
MySpace: www.myspace.com/hellogoodbye
Rating:

Their debut release 'Zombies! Aliens! Vampires! Dinosaurs!' came way back in 2006, which makes Hellogoodbye's sophomore album 'Would It Kill You?' even more anticipated. However, with this new release their sound appears to have moved away from quirky synth driven pop of their previous releases, yet the lyrical content of Forrest Kline is still there, so it is undeniably still very much a Hellogoodbye album.
Opener 'Finding Something To Do' is quirky and provides a great opening to the album with its fun-sized riff. This is about as far as the good songs go. From this point on, the band tries tirelessly to rehash the same instrumentation over and over again to no effect. Even the quirky and somewhat interesting riff to 'I Never Can Relax' seems lost amongst tiresome songs like 'Coppertone' and 'When We First Met'. And with songs like the closer 'Something You Misplaced', there's something distinctly not right about the whole thing, but it's continuously difficult to be able to put your finger on it.
This is not an entirely bad album, there are some good songs mixed in here, 'Getting Old' is simply adorable and the title track provides us with some of the best vocal melodies on the entire record, and perhaps throughout their entire discography. And whilst a blatant attempt to make most of the verses rhyme, 'You Sleep Alone' quickens up the pace, and is actually incredibly catchy. Another interesting riff on 'When We First Kissed' also makes for another saving grace.
Whilst it is incredibly unusual for me to say that cheesy synthesizers and quirky lyrics are the heart and soul of music, they were the keystone to Hellogoodbye's somewhat tried and tested formula. Take them out, and you're left with a truly underwhelming record that leaves the listener wondering where along the line it was that Hellogoodbye changed. Undoubtedly, most people will wish that they didn't at all.
Written by Oliver Thompson