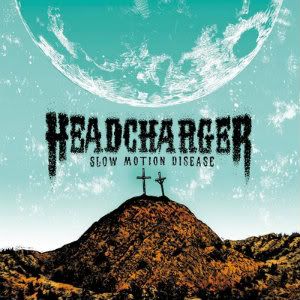 Release Date: April 30th, 2012
Label: XIII BIS Records
Website: www.headcharger.com
Facebook: www.facebook.com/headchargerband
Twitter: www.twitter.com/headcharger
Rating:


Despite having four albums already under their belt and being formed way back in 2004, Headcharger haven't permeated our radar until recently. Their latest album, 'Slow Motion Disease', is set to hit more countries than any of their previous efforts, but is this a worthwhile investment by the guys at XIII BIS Records?
The French rockers list on their Facebook page influences such as AC/DC, Every Time I Die and Refused, and whilst they do successfully manage to encapsulate the 'dad rock' vibe that comes attached to anything AC/DC touch, they don't succeed in capturing the raw passion and energy that Every Time I Die are famed for, nor the refreshing, honest lyrics of punk saviours Refused. Headcharger so far are a watered down, half-hearted attempt at a rock band and ultimately don't draw much of a reaction.
Having been described as a "throaty roar" by the more kind-hearted journalist, it's preferable to describe Seb's vocals as rasping, coarse and ineffective. Tracks such as 'All Night Long' are an embarrassing attempt at the creation of an alternative party anthem, whilst throughout 'Don't Need You', Seb forces his voice to change from the scratchy wails he demonstrated previously to an uncomfortable clean vocal which doesn't sit at all well with the music behind him.
The duo of tracks 'The Life Of A…' and '…Drifter' couldn't be two more polar opposite styles, and whilst the narrative runs throughout both tracks, it's literally the only thing that does. 'The Life Of A…' is an attempt at a ballad (I think) and '…Drifter' pulls the band back to where they seem most comfortable: attempting to create songs that will get a crowd moving.
'Slow Motion Disease' is Headcharger's fourth album, but I'm really unsure as to how they've even made it this far. Listeners should really only bother with this album if they're slightly undecided on suicide, as being forced to endure this embarrassing attempt at an album will be sure to make the escape from life so much more appealing.
Written by Cheri Faulkner