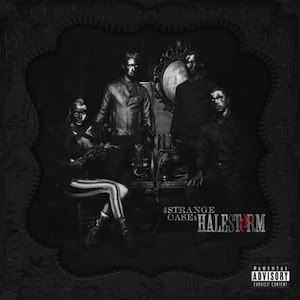 Release Date: April 10th, 2012
Label: Atlantic Records
Website: www.halestormrocks.com
Facebook: www.facebook.com/halestormrocks
Twitter: www.twitter.com/halestormrocks
Rating:


Pennsylvanian female-fronted rockers Halestorm are back with a brand new album, 'The Strange Case Of…' and it's their most explosive and riveting piece of work yet. Opening track 'Love Bites (So Do I)' is a raunchy, fist punching track that literally sounds like it's biting your ears. This album is all about the Jekyll and Hyde story, and vocalist Lzzy Hale plays the part of Hyde in second track 'Mz Hyde' with the soulful, almost operatic intro, before plummeting into pop-like verses. This song is flawlessly done, written with ease and energy.
'I Miss The Misery' and 'Daughters Of Darkness' compliment the rock aesthetic of the band, offering this rebellious and recklessness that make Halestorm stand out, but with a more pop-punky twist. These tracks sound like something Avril Lavigne would write if she were in jail.
'Beautiful With You', 'In Your Room' and 'Break In' slow this album down with soppy love ballads that are beautifully done, but aren't quite rocky enough for the rest of this album. But, when 'You Call Me A Bitch Like It's A Bad Thing' starts playing, the badass beneath the voice is evident as the guitars strike up again.
The track 'Here's To Us', which funnily enough featured on that TV show that ruined all our favourite classics called Glee, is probably the only thing letting this album down. If Glee hadn't done it, this album would probably get another star on the rating. It sounds a little soppy, but is nonetheless quite a striking track.
This album sounds like a mixture of metal induced head banging songs riddled with cheesey love ballads that only the generic 'punky' teenage girl will enjoy. Going down the Glee route may earn you more fans, but you'll never get the loyal and trusting fanbase you get in the rock scene. Hopefully this band will stick to the raunchy rock sound and throw away the pianos.
Written by Louisa Smith
Founder & Editor for DEAD PRESS! | Atheist and antitheist. | Judge of the quick & the dead since 1989.