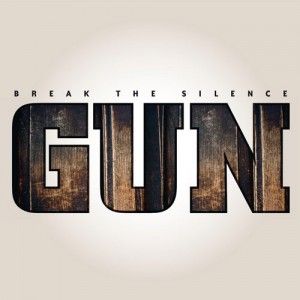 Release Date: July 2nd, 2012
Label: Edel Records
Website: www.gunofficial.co.uk
Facebook: www.facebook.com/gunofficialuk
Twitter: www.twitter.com/gunofficialuk
Rating:


The year was 1987, in the backstreets of Glasgow, when one of the most diverse and authentic rock bands was conceived, rebuilding the shape of rock 'n' roll in the Scottish highlands with their anthemic and hard rocking sound. That band was Gun, and 25 years later they're back with a more thrilling and exciting album to date, 'Breaking The Silence', showing that these five men are nothing but a force to be reckoned with… musically.
Having once shared the stages with Def Leppard, The Rolling Stones, Lynyrd Skynyrd and Bon Jovi, the Gizzie brothers and crew are certainly holding their own against some of the biggest names in rock history. With the departure of Little Angels singer Toby Jepson, who has been fronting Gun over the past four years and who was then taken over by bass player Dante Gizzi, the numerous line-up changes over the years set out a worrying vibe. But, when this album starts playing, you completely forget about the past and live in the now.
If you could capture Axl Rose's vocal skills in the 80s and put it in a human body, you would find it in Dante's, which is especially evident in 'Lost & Found', which is more vivid and striking than any artist in history could furnish. With the chorus of violins over the catchy lyrics "you know we got a brand new sound" we say "yes, we know you have a new sound and we love it".
The luxuriant track that is 'Break The Silence' which names this fabulous album is the mother of the album, being the strongest and most beautiful of the tracks on this record. Arguably the spawn of this track is the infectious 'Bad Things', which has been conceived of more punkier, bouncy beats but sharing the impeccably fun choruses that it's siblings possess.
Think of a raunchier, weightier version of Def Leppard and you have the track 'Butcher Man', which rouses in toe tapping beats and booty shaking riffs. Following from that 80s influence is the track 'Innocent Thieves', the ballad of the album, with its flowing violins and grumbling riffs before blaring out into this epic solo that leaves you utterly breathless.
When you're tired and you're feeling hard done by, this album will perk you up even if you feel like you're on death's door step. It's so upbeat, cheerful and energetic that you simply can't refuse the warm power that radiates from it. Overall; pure, pristine, perfection. Welcome back Gun, we've missed you.
Written by Louisa Smith