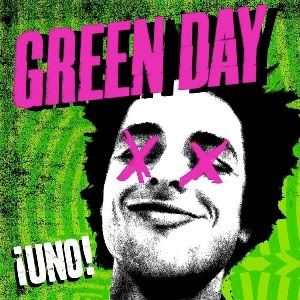 Release Date: September 24th, 2012
Label: Reprise Records
Website: www.greenday.com
Facebook: www.facebook.com/greenday
Twitter: www.twitter.com/greenday
Rating:

Punk rock giants Green Day release the first of their album trilogy, '¡Uno!'. In one interview, frontman Billie Joe Armstrong stated that "This is the best music we've ever written, and the songs just keep coming". Well, considering they have made three albums worth I can see what he means, but as is it is with most things, it may be a case quantity over quality.
Now, lyrically, yes, this is some of the best music that Green Day has ever written. The lyrics are both thought provoking and emotive (bar 'Kill The DJ', that's just a tad repetitive). Musically, however, not so much. Billie Joe stated that the songs on '¡Uno!' would be "punchier, more power pop – somewhere between AC/DC and early The Beatles". Personally, I can't hear much AC/DC in there, but I can hear heavy influences from The Beatles on songs such as 'Sweet 16'. With practically little to no distortion on any of the songs, it makes them all sound virtually indistinguishable between one another, leading to a frankly uninteresting version of Green Day. The only song on here the stands out is 'Let Yourself Go', the only reason being that its riff is exactly the same as the one in 'Jesus Of Suburbia'.
Billie Joe also stated that '¡Uno!' would be different from the previous two outings, '21st Century Breakdown' and 'American Idiot', and would not be a third rock opera. He wasn't kidding. You can't help but be let down with this album considering its predecessors. I appreciate that they want to try something new and that in their new mature ways they want to create some softer songs. I get that, I really do, but I can't help but feel that they have gone into complete overkill mode. Three albums of this flaccid, non-rock is not the way forward for Green Day.
Perhaps if they had made an album of the best of the '¡Uno!', '¡Dos!' and '¡Tre!' then it may have been a better listen and a stronger album too. If this is the start of an epic trilogy then it was a pretty poor choice. It's like starting the Godfather trilogy with Godfather III. It's not all bad though, songs such as 'Kill The DJ', though repetitive is catchy, upbeat and over all a very likeable and enjoyable song.
'21st Century Breakdown' was never going to live up the high standards of 'American Idiot', but Green Day gave it a bloody good try and produced a very good album as a result. So, to create a follow-up to those two was going to be a daunting and near impossible task regardless. However, I feel that they could have put a bit more effort into this than they did. It's not that the music is bad, it's just unimaginative and considering the genius of songs such as 'Letterbomb' and 'Wake Me Up When September Ends', I feel somewhat short changed by this.
I hope to God that '¡Dos!' and '¡Tre!' have a bit more grit and distortion on them, because at the moment, going on what '¡Uno!' has offered, I don't have many high hopes for what is yet to come.
Written by Andy Roberts