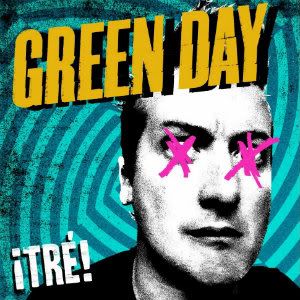 Release Date: December 10th, 2012
Label: Reprise Records
Website: www.greenday.com
Facebook: www.facebook.com/greenday
Twitter: www.twitter.com/greenday
Rating:


Following an onstage meltdown at the iHeartRadio Festival from frontman Billie Joe Armstrong, his fellow bandmates in Green Day thought it'd be best if he were to check himself into rehab. This, of course, meant that they had to cancel all of their upcoming tours for the foreseeable future whilst Billie Joe sorted himself out. To compensate for this, the band decided to push forward the release of new full-length '¡Tré!' from early 2013. How nice of them.
'¡Tré!' is the final part of the band's ambitious album trilogy and it's safe to say that it was worth the wait. '¡Uno!' was a bland, nothing album with predictable and repetitive songs. '¡Dos!' kicked things up a notch and, even though the songs were simple, they were generally well written and thoroughly likable. With '¡Tré!', they've left the best songs in their collection 'til last.
Like how 'Wake Me Up When September Ends' and 'Whatsername' were placed towards the end of their hugely successful 'American Idiot' album, Green Day have left their soft and more mature songs until the end of their album saga. Songs like album opener 'Brutal Love' hold the perfect balance of a tender melody carrying forward powerful lyrics with a subtle guitar solo as a cherry on the top. There are a handful of other ballad-esque songs, such as 'Drama Queen' and 'The Forgotten', which really do make you take a step back and reflect on things.
I know they've been around for the best part of twenty years or so now, but most bands at this stage of this career usually seem the fizzle out and just churn out bland and predictable music. When I heard '¡Uno!', I thought Green Day had eventually turned into one of them, but I was so very wrong. '¡Tré!' possesses 12 wonderfully written songs that are all amazing in their own right. Obviously some are stronger than others but, as a whole, '¡Tré!' is by far the best album of the trilogy and the band's best release since 2004's 'American Idiot'.
So, there you have it, Green Day are just as strong as they always were and don't let some onstage blowout or bad review tell you otherwise. Who would have thought that the guys who brought you 'Basket Case' and 'Geek Stink Breath' would still be around and producing some of the best music on the punk rock scene more than a decade later?
Written by Andy Roberts
Founder & Editor for DEAD PRESS!