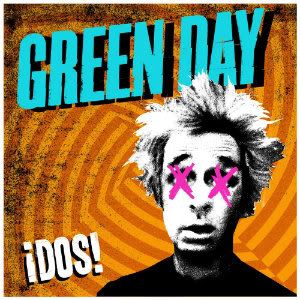 Release Date: November 12th, 2012
Label: Reprise Records
Website: www.greenday.com
Facebook: www.facebook.com/greenday
Twitter: www.twitter.com/greenday
Rating:

Part two of Green Day's ambitious album trilogy has been thrown our way for a listen. If I'm honest, I really can't be bothered doing this. '¡Uno!' was quite a letdown and, as a result, I'm feeling very indifferent about giving anymore of Green Day's new stuff a listen so soon after its release. Oh well, it's a dirty job but someone has to do it.
Though both '¡Uno!' and '¡Dos!' are near identical in sound and style, there's just something about the songs on '¡Dos!' that stand out that much brighter. Frontman Billie Joe Armstrong stated in an interview that the material written on these albums is the best material to date. Regarding just the songs on this album, I can kind of see where he's coming from. Admittedly, there are no 'Macy's Day Parade''s or 'Minority''s to be found on here, but there are still some outstanding tracks none the less.
Green Day still forgoing the over distorted guitar effects in favour of a grungy vibe. Take 'Stray Heart'; it's a smooth, mellow and, dare I say, groovy little number with an outstanding bass line throughout, which is a very different style when you look at their last two albums. The lyrics are still as dark and beautifully written as they were before. Perhaps their new sound is to give the lyrics a stronger chance to shine.
One thing that I do despise about this album, however, is the atrocity that is 'Nightlife'. Billie Joe adopts this weird vocal effect that makes him sound like a drunk as he slurs the throughout the entire ordeal. I imagine it's what an old dog hears when it's dying. Then, from nowhere, some bimbo starts 'rapping' over a bad drum machine. Ot makes you feel dirty just from listening to it. This is a cheap and quite frankly awful song that ruins the tone, tempo and integrity of the album. This is NOT Green Day, and I hope this is not a direction they choose to wander upon again.
While this is a still a mature album, without a story to paint or a message to tell, I feel that the band are a little lost. However, the songs are well written, catchy and overall enjoyable, even if they are a little samey. This is a very different Green Day compared with the one that gave us many of the greats across 'International Superhits', and this seems to annoy a lot of people.
Why? Bands progress and Green Day are a perfect example of how to do so well. Unlike '¡Uno!', second trilogy chapter '¡Dos!' is well worth a listen and I urge you to do so because, deep down, everybody loves Green Day on some level.
Written by Andy Roberts