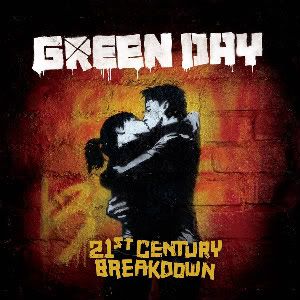 Release Date: May 15th, 2009
Label: Reprise Records
Rating: 7/10
Website: www.greenday.com
MySpace: www.myspace.com/greenday
So five years after Green Day more than slightly changed up their modus operandi with 2004's 'American Idiot', we have received a second rock opera in the form of 70 minute epic '21st Century Breakdown'. You'll have to excuse me now as I take a brief detour down anecdotal lane to put my thoughts on this album into context.
In 2004, I remember an album coming out. People (13/14/15 year old girls and boys, I mean) who previously liked all manner of shite manufactured commercial chart 'R'n'B' music (sans rhythm and/or blues, naturally) suddenly started dyeing parts of their hair purple, wearing brightly coloured skinny ties and checked wrist bands for no apparent reason. Their listening habits quickly switched to the likes of Blink-182, The Offspring, New Found Glory and various other pop-punk bands that had been around a for a decent while with varying levels of success. You know, simple melodies, teen angst, all that good stuff. However, the band at the epicentre of this new found alternative listening habit of my peers was Green Day which was odd considering they were doing something entirely different with their album 'American Idiot'. They were trying to do something grand, say things about important things bands like this aren't supposed to. They were having chart success with the title track and even moreso with 'Boulevard Of Broken Dreams'. Not liking this kind of music, and even moreso Green Day, for trying to play music like they're something they're not contributed slightly to my very angry little man phase that I'm probably still not entirely over. So with chairs thrown, pencils stabbed (unrelated to Green Day thankfully) I calmed down a little, learned of how the band were getting progressively closer to this kind of territory anyway, and every now and then enjoying the bubblegum, the likes of your 'Basket Case''s and your 'Hitchin' A Ride''s. The question is: can Green Day convince me they have the credibility to pull of this kind of thing five years on?
Right, so some quick notes on the idea; it's an 'opera' as I have mentioned, it is set in Detroit hence 'Murder City', sort of follows a couple called Christian and Gloria in George W. Bush's America. It's set into three 'acts'; Heroes & Cons, Charlatans & Saints and Horseshoes and Handgrenades. Buy into this or don't at your own discretion. First track proper, the titular song, displays a level of the dreaded and generic word maturity, as Green Day go into full U2 mode, and for the opening few songs, if not throughout the whole thing, this definitely is more pop than it is punk, but not necessarily in a bad way. How much you'll enjoy this depends on your tastes; but you can see the fully fledged stadium rock band in full swing now. The whole concept shows the ambition that the band has to escape the stereotypes I and many others lavish them with; they've definitely achieved it. The band display a brand of pop-rock mixed with politics, war, love, romance and all those epic kinds of things, and in a lot of places like the sadly-not-a-Rage cover 'Know Your Enemy'. That's not to say they haven't stayed true to their roots in a lot of places. They mix their new found love of piano, flute and string (maybe not the flute but a Moby reference never hurts) is melded efficiently with their three-chord bubblegum punk salvados of yore, complete with the catchy hooks and big drums.
Lyrically, many of the songs are from either or both of the characters points of view, as well as being drawn from singer Billy Joe Armstrong's personal life, if you look to media calls that promote this album and just general interviews with the band from history, there are some parallels, with Armstrong himself saying in a piece with Rolling Stone that "I look at Christian and Gloria, and it's me". And while in terms of the lyrics themselves I've never been a big fan of Armstrong's writing, songs like 'Last Night On Earth', a stunning love ballad, actually work quite well without any of the pretentious melodrama that both clouded the previous album and the title of the song. However, in other moments like the successive 'East Jesus Nowhere', a crack on religion or perhaps religious zealots, things aren't blunt to be impactful but rather blunt to the point where it just sounds Neanderthal. Still, whilst I find myself enjoying many of the songs, both musically and lyrically, this story of Christian and Gloria I just don't find myself getting into. For instance in the second 'Viva La Gloria' I like the nice gypsyish start into the punk attack transition, but I don't really care for Gloria.
So Green Day did sort of convince me here. This will never be one of my all time favourites but I enjoy it, it's a nice package of punk, pop, rock and dare I even say a little bit of soul too. I would perhaps even go as far to say albums like this give the band the potential to become the next U2 a few more years down the line. The thing they convinced me of is that they can very much pull off a concept album, they have the skill set to tell a story, and they are the kind of band who can do it. It's just that on this particular occasion, the story didn't grab me. However, the tale of Christian and Gloria will probably mean a lot to somebody, people who do forge their own opinions on things and see the world as on it's way to it's own destruction. For me though, this is a fun record, even if I don't quite buy into the meaning, and a more complete one for my money than Green Day have ever put out before.
Written by Paul Smith