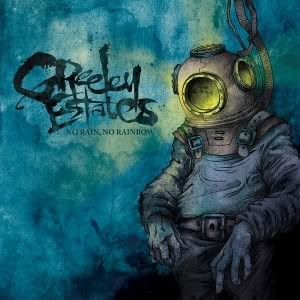 Release Date: January 26th, 2010
Label: Tragic Hero Records
Rating: 8/10
Website: None available
MySpace: www.myspace.com/greeleyestates
"If it's not broken don't fix it" is a phrase the post-hardcore genre is all too familiar with. The genre is overcrowded with artists that have no intention of bringing something fresh and different to the table. But there are always a few exceptions to the rule, and in amongst the stereotypical screamers lay a couple of hidden gems, Greeley Estates being one of them. The Arizonian quintet, who've had more member changes than they have albums, have finally got a strong and sturdy line-up and this is reflected in the band's latest release 'No Rain, No Rainbow'.
The fourth effort from the post-hardcore rockers is an awful lot heavier than previous releases seeing the boys push their sound to extremes, at times they even border on the line of deathcore. Opener 'Seven Hours' along with 'loyal.com' are prime examples of how the five-piece have grown musically. The tracks are bursting with deep growls and screams from vocalist Ryan Zimmerman, steering clear from the clean vocals the band has heavily relied upon in the past. In fact, the only parts on this record that are actually sung are done so by guest vocalists. 'Lying Through Your Teeth Doesn't Count As Flossing' featuring Beau Bokan (blessthefall) and 'Friends Are For Never' with Craig Mabbitt (Escape The Fate) are the only songs which sound remotely similar to the band's backcatalogue.
The sudden change in sound and style is worlds apart from the quintet's highly popular 2008 release 'Go West Young Man, Let The Evil Go East'. The band won't necessarily lose fans because of their new music, but it may take a couple of listens of the record for people to adapt to Greeley Estates' new found maturity and incredibly aggressive style.
'No Rain, No Rainbow' is a strong record from five increasingly talented musicians. Guitarists Alex Torres and Brandon Hackenson are on top form throughout the album, having created a superb mix of melodic and heavy riffs. Songs such as 'Wolves Make Great Actors' and 'You'll Never Leave Vegas Alive' are especially good for showing off the boys' skills. Of course, drummer Chris Julian and bassist David Ludlow also deserve recognition for their hard work, along with vocal shredding Ryan, creating sounds that you'd expect would bring his lungs out from his throat.
It will be very interesting to see what the quintet sound like on album number five. If their transition into 'No Rain, No Rainbow' is anything to go by then it'll end up being heavy as hell… watch this space.
Written by Kate Rees