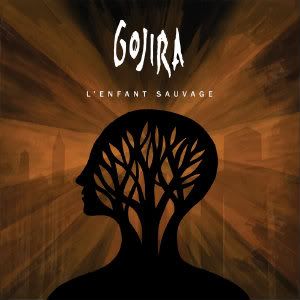 Release Date: June 26th, 2012
Label: Roadrunner Records
Website: www.gojira-music.com
Facebook: www.facebook.com/gojiramusic
Twitter: www.twitter.com/gojiramusic
Rating:

Gojira have historically been a very exciting band. 2003's 'From Mars To Sirius' is a crushingly heavy album and its follow-up 'The Way Of All Flesh' is equally as pummeling. Pushing the boat out has never been one of Gojira's fortes though, and maybe their fifth offering 'L'enfant Sauvage' is one step too far in unoriginality.
If you had to describe how a Gojira song goes, it would be something like: chug chug, sweep harmonic, followed by more chug, with something about the environment thrown in there. Pretty much every song on 'L'enfant Sauvage' (or 'Elephant Sausage' as it has been cheekily penned) goes by this formula and it does get a bit repetitive. It's the sort of album that will leave no real impact after first listen, which is never a good sign. Even from the first notes of opener 'Explosia' there's a constant air of familiarity about things, with Gojira seemingly reverting to their tried and tested approach whenever they need to add a new section.
Bands like AC/DC and Motorhead have successfully lived by the "if it ain't broke, don't fix it" ethos, but it seems maybe that this phrase may have been lost in translation somewhat with tracks like 'The Fall', a song so familiar to any particular track from their previous albums that it could impersonate them in a lookalike contest.
For Gojira's fanbase though, 'L'enfant Sauvage' may be exactly what is desired. Bands like Meshuggah have written brilliant albums where they have refused to reproduce their style again and then fallen short with later efforts. Whether Gojira are scared of falling into that trap or the workload has just got to them is unknown. This time last year, lead singer Joe Duplantier was talking about a new album along with an EP for the benefit of the Sea Shepherd charity AND a live DVD. All three have come to fruition in some shape or form, but there's no doubting that it's a heavy workload (no pun intended).
It remains to be seen if staying straight on the same path will work out for Gojira and it would be a great shame if they drop off the radar as a result. Maybe in the competitive world of metal it has become too compulsory to embrace change and Gojira are doing the right thing. Let's bloody well hope so.
Written by MG Savage