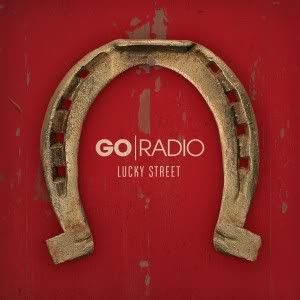 Release Date: March 1st, 2011
Label: Fearless Records
Website: www.wearegoradio.com
MySpace: www.myspace.com/goradio
Rating:


Go Radio is fronted by ex-member of Mayday Parade in 2007, vocalist/guitarist Jason Lancaster, and includes former members of Don't Die Cindy and Carawae. 'Lucky Street' is the first album proper from the Tallahassee, Florida based pop-rock outfit.
Showing a bit more of a punk rock attitude to their music than there was in Jason Lancaster's previous band, the album begins with a siren signifying a call to arms. The album;s title track is a feel good sounding, catchy punk rock in the style of bands like The Ataris and The Swellers. Packed full of huge melodies and rousing vocals about standing up to an impending disaster in New York City, "So just tell me that you'll hold my hand / We'll stand together here in New York sand". This provides the template for the beginning half of the album.
The album continues to keep up the tempo with tracks, such as 'Singing With The King' and first single 'Any Other Heart' which reminds the listener of Rise Against's poppier tracks. Then we arrive at the first, and best of the more delicate piano led tracks, 'Why I'm Home'. The emotive vocals and added string section make this track an album highlight, and coming in the middle of the album gives the listener a break from the pop-rockers that form the beginning of the album, and show a different side to Go Radio.
It's the mellower songs like 'Why I'm Home' that form the middle part of the record, along with acoustic guitar led 'Hold On', which is reminiscent of Rise Against's 'Swing Life Away', and 'Forever My Father', a reworking of the same track from their debut EP. Both are bookended by catchy pop-rock songs 'Kill The Beast' and brass heavy 'Fight Fight, Reach For The Sky', as if reminding the listener that Go Radio, whilst they can break things down with the delicate piano led tracks, are still very much a guitar led poppy punk rock band at heart.
At 14 tracks, including bonus version of 'Forever My Father' featuring Erin and Daniel Lancaster from first EP 'Welcome To Life', 'Lucky Street' seems a bit too lengthy for an album that would have had more of an impact had it been stripped down a bit more. However, 'Lucky Street' still stands as a very solid, hook-laden pop-punk album, interspersed with delicate piano ballads that really show off Jason Lancaster's vocal range.
Written by Alex Mitchell-Fox