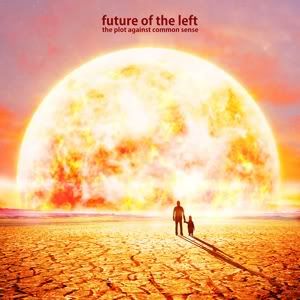 Release Date: June 11th, 2012
Label: Xtra Mile Recordings
Website: www.futureoftheleft.net
Facebook: www.facebook.com/futureoftheleft
Twitter: www.twitter.com/shit_rock
Rating:


It was going to take quite a big job for them to top 2009's 'Travels With Myself And Another', but after a three year wait and a few line-up changes here and there, it seems that Cardiff's Future Of The Left have raised the high benchmark that was set by them with their last release and have exceeded expectations in all aspects. Enter new album, 'The Plot Against Common Sense'.
One of the album's main highlights is its truly comical lyrics. However, these lyrics aren't just there for comical value and do have some very serious themes, touching on political and cultural issues. Falco's lyrical genius is extended throughout the record, appearing in songs like the satirical 'Sorry Dad, I Was Late For The Riots', the simple but catchy 'Failed Olympic Bid' and the frantic and funny 'Robocop 4- Fuck Off Robocop', in which he sings "Pirates Of The Caribbean 47, Johnny Depp stars as the robot pirate who loses his wife in a game of poker / And tries to win her back with hilarious consequences". His lyrics are pure gold and make the stop-start 'Robocop 4…' one of the record's strongest tracks.
Many of the album's fifteen tracks see the keyboards take to the floor, so much so that 'Cosmo's Ladder' resembles the soundtrack to an old Nintendo game with its electronic synth, merely accentuated by its lyrics. But, the balance between keyboards and guitars is just right, and the electronic synth doesn't overwhelm the album.
This is a true rock record, full of screeching guitars, high tempo beats, screamed frantic lyrics and a whole lot of fun. Opener 'Sheena Is A T-Shirt Salesman' opens the album just as it means to go on and doesn't lead you in lightly, with its intro building up into distorted, raw vocals before descending into chaotic blur of buzzing guitars, screamed lyrics, finally coming to an abrupt halt.
Fifth track 'City Of Exploded Children' takes a slightly different route, notably more chilled out than the rest of the album, complete with softly spoken lyrics in the breakdown and minimal percussion. 'Sorry Dad, I Was Late For The Riots' has a slightly more old-school rock vibe to it than the rest of the album, but is undeniably catchy and fun.
'The Plot Against Common Sense' is everything good about previous effort 'Travels With Myself And Another' multiplied by ten. If you haven't yet given Future Of The Left a listen, then you'd be absolutely mad to miss this record.
Written by Ashleigh Wight