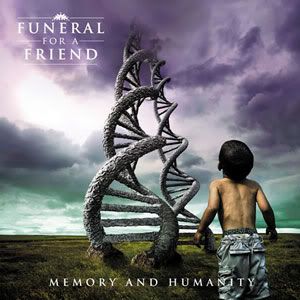 Release Date: October 13th, 2008
Label: Join Us
Rating: 7/10
Website: www.ffafmusic.co.uk
MySpace: www.myspace.com/funeralforafriend
The last time we heard from Funeral For A Friend was with last year's experimental concept effort, 'Tales Don't Tell Themselves'. Unfortunately for the boys, it ended up being their least successful album to-date, and also proved to be a strong reason their label at the time, Atlantic Records, dropped them. Determined to carry on, the band formed their own label Join Us, and returned strong with their fourth album, 'Memory And Humanity'.
It's clear from the off-set that Funeral For A Friend have taken a step back from their more commercial alternative rock sound evident on the previous album, and have inserted more of their original post-hardcore roots from 'Hours' and 'Casually Dressed & Deep In Conversation', giving them a much more stable and mature sound than before. The skills and talent of guitarists Darran Smith and Kris Coombs-Roberts is still on show and as strong as it's always been, especially in tracks like 'To Die Like Mouchette', and 'Constant Illuminations'. Songwriting skills have improved once more, with the constant tug-o-war like approach of quiet sections and heavier bursts in 'Maybe I Am?', and the rejection of the common verse-chorus-verse approach in 'Waterfront Dance Club' shows a growth in musicianship. It's nice to see a more anarchy and rebellious-esque number from the Welsh boys too, with 'You Can't See The Forest For The Wolves' holding a punk-like verse, and a heavy distorted breakdown showing one of the band's heaviest offerings since their second album back in 2005. 'Building' proves to be one of the strongest moments from this release, a quiet solemn acoustic-like number, shedding apart the chorus from the verses beautifully. Along with this, 'Ghosts' is easily one moment in the album where you'll definitley detect the band's step back towards their old sound, with a lacing of aggression and altering sections progressing from one another steadily with great finese.
Funeral For A Friend have taken a strong move taking a step back from their last full-length album, producing a collection of songs that are easily their most mature to-date. These boys aren't down and out for a while just yet.
Written by Zach Redrup