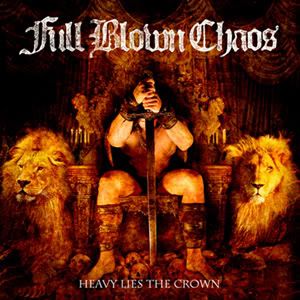 Release Date: August 21st, 2007
Label: Ferret Music
Rating: 3/10
Website: None available
MySpace: www.myspace.com/fullblownchaos
Metal and hardcore are genres which have stood the test of time, going through ups and downs over the years. There have been many successful acts and failed acts to accompany this, Full Blown Chaos are one of those acts that embrace that genre, but are definitely not a key band to be remembered within it, at least with what they bring with 'Heavy Lies The Crown'.
From what this album has to offer, Full Blown Chaos just seem to want to churn out the same old metal in 12 different tracks with slight alterations. Sure, the songs have different variations within the riffs and lyrics as in every song you'll ever hear, but there's almost no change whatsoever in vocal work, or what the song brings to the listener at all. Just listening to tracks like 'The Hard Goodbye' and 'Fail Like A Champ' you can see how much this band are influenced by the likes of Sepultura and Machine Head, but instead of creating something new with it, they just seem to be recycling it and putting their mark upon it.
But to be fair, the album isn't complete with boring songs repeated throughout. 'Heavy Lies The Crown' does contain some stand out tracks which don't sound like the other 80% of songs on the record. The title track is just one of these, and has it's moments where you're not just pummelled with cliché riffs. 'All For Nothing' is another key moment, where you can actually feel the emotion and anger channelling through in the music, like metal and hardcore music should do. The music actually grows, alters, and progresses throughout which is something that you're after in an album.
It's not like the musicians aren't talented either, 'Mojave Red Pt.1' is a nice showcase of great guitar work and musicianship. If they used this kind of skill and co-operation just a little more often they'd be doing something great, sadly this isn't the case. This then progresses onto 'Mojave Red Pt.2' which is a nice example of this band doing something a bit more intense, heavy, and exciting. The question is: Why didn't they do this earlier?
Not a key moment in metal here from Full Blown Chaos. If they want to release another album in the future then they're gonna have to step up in their game a little bit, or they're gonna get crushed by the competition.
Written by Zach Redrup