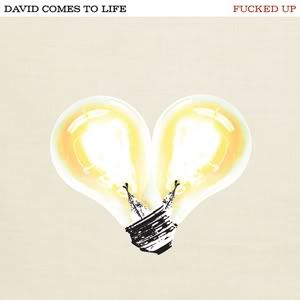 Release Date: June 6th, 2011
Label: Mattador Records
Website: lookingforgold.blogspot.com
Facebook: www.facebook.com/fuckedup
Twitter: www.twitter.com/leftfordamian
Rating:


Fucked Up are a band who, after a stretch of no recognition and accusations of generic hardcore/punk music, seem to have finally found their feet, and their sound. Touring with Arcade Fire, playing marathon shows and, subsequently, releasing a third album with ridiculous ambition written all over it is pretty much the best way to describe this band's transformation to any outsider.
This eighteen track epic is a completely different side of Fucked Up, however, it's not a complete 'shot in the dark' formula. Think back to bands like The Ramones and their complete changes of direction post-'Chrysalis'. However, this album is much more reminiscent of Green Day's 'American Idiot'-era and beyond. Divided into four separate acts, this album details a narrative, where manual labourer David Eliade falls in love with a lady called Veronica, and together they build a bomb with destructive consequences. This is much more than just songs, this is a theatrical masterpiece.
The songs have been laced with layers of instrumental melody, you'd think they had put a string orchestra into a Fender factory at points with the amount of riffs in any one track. Think movies like Memento, Pulp Fiction and Inception, and now try transform those thoughts into a melodic hardcore audio release and we start to touch on just what this album represents. The number of layers on offer to your ears here is verging on ridiculous, and Shane Stoneback has done an absolutely brilliant job of producing something that sounds so crisp and clear with so much going on, and what's more, making it ridiculously appealing to our ears.
This is an album which severely runs the risk of being over produced, especially for a band who aren't quite established at the world class level as their predecessors before such an ambitious release. However, they do just about get away with this being a complete mark of genius, and – while very intricate at points – it is thoroughly enjoyable to listen to on almost every level. The one other criticism here is, keep a couple hours free if you choose to listen to this, as there isn't one song to listen to, you really need to listen to this captively from start to finish to appreciate just how much has gone into making this an unmissable release.
Written by Gary Cassidy