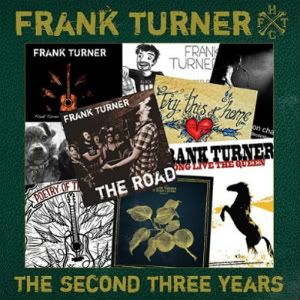 Release Date: January 16th, 2012
Label: Xtra Mile Recordings
Website: www.frank-turner.com
Facebook: www.facebook.com/frankturnermusic
Twitter: www.twitter.com/fthc
Rating:

Since Million Dead split in 2005, Mr. Turner has made four studio albums, three EPs and two compilation albums, as well as fitting in a butt-load of tours and appearances in between. Needless to say, he is one busy man. 'The Second Three Years' is a compilation album, consisting mainly of covers and b-sides. Now, I have always thought that a compilation album was just an artist's way of getting in a bit of extra cash from their die-hard fans. However, this is not the case with Frank Turner.
As I have already established, he is a very busy man and has done lots of appearances on the likes of BBC 1's Live Lounge, as well as doing covers for various tribute CDs for bands such as Nirvana and Kerbdog. If you're an avid Frank Turner fan, you will probably have all these songs, but your iTunes library will look rather messy, having the odd song scattered all over the place. NOT ANY MORE! Thank to this handy compilation album, you can now make your music library look nice and tidy. Plus, you get two previous unreleased songs; 'Linoleum' (a NOFX cover) and 'The Slow Train' (a Flanders And Swann cover).
Now, that may seem like I'm being bitter and sarcastic, but that's just my natural tone and I'm a bit of a neat freak when it comes to my music library. But, I do genuinely think this compilation album is a good idea. Because we're not all made of money, we can't afford the super mega platinum deluxe Jesus edition of everything, so we miss out on a fair few of the bonus tracks. Luckily, 'The Second Three Years' features them all. You won't miss out wonderful songs like 'Song For Eva Mae', which is just too good to miss. Quite frankly, if Frank Turner considers this a b-side, then it just goes to show you how good his A-material is.
To anyone unsure about this album, I urge you to get it. If not for the sake of completion, then get it for owning a wonderful and varied collection of songs. It has everything; awesome covers, old English ditties and a good load of classic Frank Turner (with his band and without). This proves once and for all that Frank is just so talented. It seems that writing music just comes as natural to him as the breathing process. Overall, this is a wonderful album and, like I said before, it's only just the b-sides.
Written by Andy Roberts