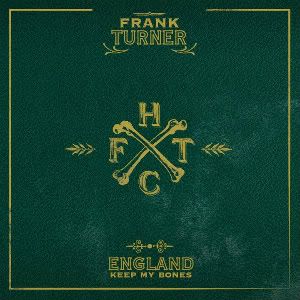 Release Date: June 6th, 2011
Label: Xtra Mile Recordings
Website: www.frank-turner.com
MySpace: www.myspace.com/frankturner
Rating:


Looking back from his days in his old band Million Dead who split in 2005, things have definitely soared further and stronger than anyone could have imagined once Frank Turner announced he was going to go solo. Upon listening to latest offering 'England Keep My Bones', the British artist is consistently releasing incredible music. Having peaked in the UK charts at position #12 in the first week of its release is just one source of evidence to this statement.
Having listened to his older classics, such as 'Photosynthesis' and 'Long Live The Queen', Frank hasn't particularly changed his musical style, but has more evolved it, keeping his unique folk sound whilst adding more variety and depth to his songs. This album is a wonderful blend of acoustic melodies and punk rock tunes, sounding like a less punky version of Flogging Molly in places. Take 'Rivers', it's a wonderful, mellow and moving song, and then things switch a gear to a fast-paced rock anthem, 'I Am Disappeared', that you can't help but get caught up in. Each and every song of this album is a musical gem, tailored to perfection by Frank and his backing band The Sleeping Souls, which is actually in a line from the aforementioned track.
This being his fourth studio album, 'England Keep My Bones' screams out with patriotism. Even the title of the album is from the William Shakespeare play 'The Life And Death Of King John'. If Frank isn't serenading us with his desire to be "buried in the English seas", then he's teaching us of our rich heritage and history in songs like 'English Curse'. Now, I'm not usually patriotic, not in the slightest, but upon just one listen of 'England Keep My Bones', I couldn't help but feel proud to call myself English. Frank himself said that he wanted to make the sound "more English", and he has definitely achieved that.
If you were to get this album, make sure you get a physical copy for it leather bound, like a classic book. All in all, this is an outstanding album, with no lull and no filler tracks. Frank is almost always on tour, so keep an eye out for him. 'England Keep My Bones' is easily one of the best albums of 2011 so far, and I for one cannot stop listening to it.
Written by Andy Roberts