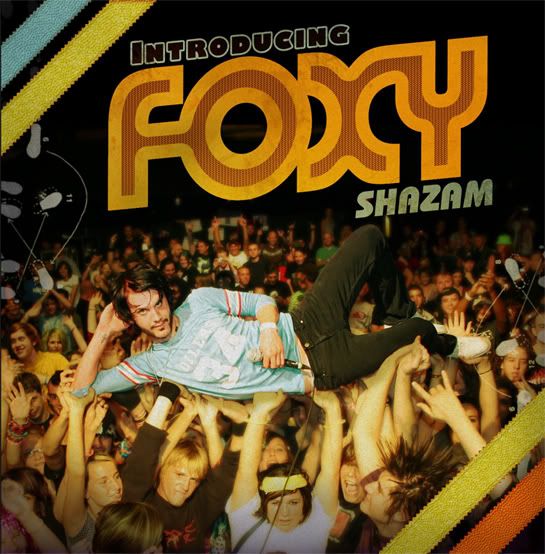 Release Date: January 22nd, 2008
Label: Ferret Music
Rating: 6/10
Website: www.foxyshazam.com
MySpace: www.myspace.com/foxyshazam
Dubbed by some under the classification and genre of 'pianocore', Foxy Shazam produce a sound that you really aren't likely to come across every day. Imagine if you would the piano-pop sound you're likely to get from a number by Lily Allen or Delta Goodrem, and placing over it the less radio-friendly vocal and guitar accompaniment that you'd find from bands like Blood Brothers and The Number 12 Looks Like You.
'Introducing' pretty much does what it says on the tin, even though it is their second full-length effort, though a lot argue that the band need to be seen live in action to be truely understood. Songs like 'The Rocketeer' and 'A Dangerous Man' give all the evidence you'll need to see why they've been labeled as 'pianocore'. Fast and chaotic guitar work with a base underlay of piano work constructs something that should probably sound pretty terrible and hard to enjoy, but is just another life example that opposites do attract.
A more soul and mellow sound is given off with 'The Science Of Love', with "Oooh!" here and there in the background reeling in points towards pop and catchy material, and the added synth keyboard work just polishing off and creating work that again isn't a regular occurance in a lot of music scenes today. If that doesn't do enough for you, the high pitched wail from Eric Sean Nally towards the end of the song should just finish the fact that this band aren't afraid to play around with cheese. If their more agressive side is more your thing, then head for 'It's Hair Smelled Like Bonfire'. The constant bellows of "We're ready to roll! / I don't wanna know!" is enough to get you in a pissed-off mood too.
Though their sound is definitely a unique and original one, it can become a bit repetative after a couple of tracks. Your best bet if you're a newcomer to this band is to simply listen to a few tracks in one session, and then come back and listen to the rest another time before taking the whole package head on.
'Introducing' does its intended job, but if you're only just being introduced then take this original band in bit by bit.
Written by Zach Redrup