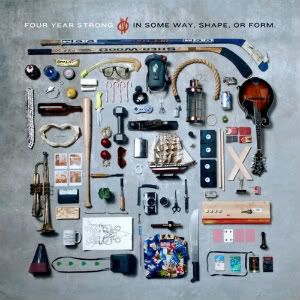 Release Date: November 8th, 2011
Label: Decaydance
Website: www.fouryearstrongmusic.com
MySpace: www.myspace.com/fouryearstrong
Rating:


There was an idiotic man who once said that "it must really suck to be Four Year Strong right now". Well, with the year they've had, I can place a safe bet that it doesn't. With a Sonisphere slot, a Hevy headline and a brand new album under their belts, it's probably safe to say that life has never looked brighter for the Massachusetts four-piece.
In the run up to 'In Some Way, Shape, Or Form', the band stated that they would be moving away from their classic brand of lead heavy pop-punk to a more straight forward rock sound. Whilst this may sound like a bad thing on paper, the results are surprisingly good. Whilst it's true that the album lacks a lot of the crunch that their previous full-length efforts possessed, the album is full of huge choruses, big riffs and powerful songs. Songs like 'The Security Of The Familiar…' and 'Unbreakable' sound absolutely huge and are packed full of tight riffs. If you're looking for the familiar punch of a Four Year Strong beatdown, you will have to look elsewhere, but they hint and tease the listener on thumping opener, 'The Infected' with a dense riff and shouted vocals that will surely keep even the most die-hard fans happy. Any fans that are not satisfied with the band's new direction should be reminded that every band changes, so man up and get the fuck over it because this is a good record nonetheless.
True to the billing it had been given in the promotional run up to the album, there are some very Foo Fighters-like moments that should (but probably won't) have Dave Grohl and the rest of the more mainstream rock media sit up and take notice. Everything from the song structure, vocal style, the riff and huge chorus of 'Stuck In The Middle' sounds like it was ripped right from their songbook, but frankly, it sounds brilliant. Songs like 'Just Drive' and 'Fairweather Fan' are brilliantly refreshing, but may come as a shock to long term fans of the band.
Midway through the album though, the new sound begins to take its toll as tracks like 'Sweet Kerosene' and 'Fight The Future' trundle on without any sort of wow factor. They're still good, but they just lack a certain something to make them anything more than filler tracks, bloody good filler tracks at that. Finally, the band decides to close the album on the piano led 'Only The Meek Get Pinched. The Bold Survive.', which is just strange more than anything. Delicate piano with heartfelt vocals over the top, check, big chorus, check, massive guitars, check. (Queen vibes anyone?) It's quite a surreal finish to the album, but kudos to them for trying something that has definitely not been in their repertoire before.
It's big, it's bold and it's a statement of intent from Four Year Strong. Not quite a top 40 rock album just yet, but not just another one that sticks rigidly to "heavy pop-punk" formula. Definitely an enjoyable listen with a lot of potential staying power, yet, there just seems something missing and if they can put their finger on what it is, then watch out world, your new favourite band are coming your way.
Written by Oliver Thompson