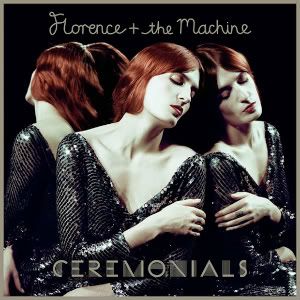 Release Date: October 31st, 2011
Label: Island
Website: www.florenceandthemachine.net
Facebook: www.facebook.com/florenceandthemachine
Twitter: www.twitter.com/flo_tweet
Rating:


What an unarguably breathtaking vocal ability Florence Welsh demonstrated in the 2009 release of her debut album, 'Lungs'. However, it seems in her second album, 'Ceremonials', that The Machine has begun to dig its heels in a bit. I'm hearing all of the things originally presented in 2009, but with more umph from the instrumentation.
The album opens with the anathematic song 'Only If For A Night'. Welsh's unique banshee like howls and elated falsetto leaps are as prevalent in this number as ever, as are the tribal drums lines and the piercing strings that we've grown to love and associate with Florence + The Machine: a well executed mix, and a perfect choice as album opener. In 'Never Let Me Go', Welsh's vocals are just as bold and outlandish as ever. It's not as eccentric as the other numbers however, but I'm sure it'll be in the running for an upcoming single release.
The songstress truly has produced yet another sterling release, with the exception of a few of the latter tracks – the haunting and discordant composition of 'Remain Nameless' and 'Seven Devils' brings down the overall experience of the LP. The stereotypical listener won't enjoy these tracks as much as the others.
Although this album has a lot to offer and has been incredibly well produced, I can't help but direct attention to the overwhelming length of the 20 song deluxe edition. I wouldn't advise that you listen to the entire product in one sitting, as you may experience some definitive signs of aging.
'Ceremonials' is 90 minutes long in total, each song averaging around five minutes each. Saying that, a lot of the tracks do hold their own, but it could have done with a refreshment interval.
I can thoroughly recommend 'Ceremonials' to the avid indie audience that enjoyed the debut album. Welsh has grown so much as both a singer and a writer, and as a result has compiled an even more artistic collection than the last.
Written by Ross Campbell