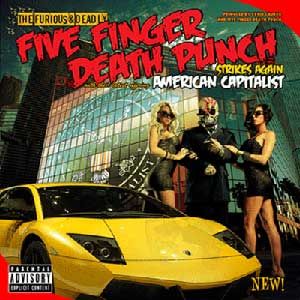 Release Date: October 11th, 2011
Label: Spinefarm Records
Website: www.fivefingerdeathpunch.com
MySpace: www.myspace.com/ffdp
Rating:

"Everyone has two choices: evolve or die". This quote can be found on the website of American heavy metal band, Five Finger Death Punch. This seems appropriate since 'American Capitalist' is the first album they've created since the departure of bassist Matt Snell, but rest assured, Five Finger Death Punch have certainly chosen to evolve and if this album is anything to go by, they won't be dying anytime soon.
Kicking off with title track 'American Capitalist', the band start as they mean to go on. A heavy guitar introduction followed by the roars of vocalist Ivan Moody, who demonstrates not only his ability to blow your head off with screams but also his singing capabilities as well with a seamless switch between the two. First single from the album, 'Under And Over It', demonstrates that whilst the band have evolved over time, they're adamant to prove it isn't changing them, belting out in the chorus "You can be me and I will be you / You can live just like a star / I'll take my sanity / You take the fame / I'm under and over it all".
However, this isn't just an album of venting anger, as less heavy tracks such as the heartfelt 'Remember Everything' prove. By providing lower tempo tracks such as this and 'Coming Down', Five Finger Death Punch manageto show off their versatility and Moody's vocal prowess which adds to the album as a whole. This has been the set up of their previous releases, but how stripped down the songs are makes this album seem more impressive than its predecessors.
The only weak point of the album is that at times it can become too focused on the capitalist system, which in turn causes the lyrics to suffer. The main example here lies in 'The Pride', where various successful people, businesses and features of the American system are just listed off and called in a verse. Later in the album the band counter-act this and choose to focus on other topics such as relationships with the song 'Wicked Ways', and album closer '100 Ways To Hate' has a pretty self-explanatory subject, ensuring there's diversity on this album and something that everyone can relate to.
The lasting impression from this album is that Five Finger Death Punch are going to work hard for what they want and aren't going to let anybody stand in their way or take it from them, with songs such as 'If I Fall' and 'Generation Dead' using this as the main focus. With the talent they demonstrate across 'American Capitalist', it's an impression that's believable after providing us with another album that will undoubtedly please knuckleheads everywhere.
Written by Jonathan Barlow