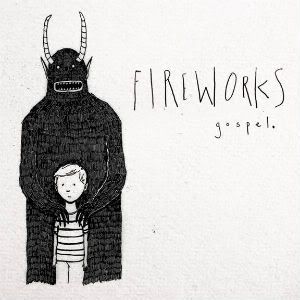 Release Date: May 24th, 2011
Label: Triple Crown Records
Website: None available
MySpace: www.myspace.com/fireworks
Rating:


So, it would appear that 2011 is the year that pop-punk as a genre goes global, and by that I mean that everyone enjoys jumping around to anything even remotely tagged under the genre, ranging from long loved returners Blink-182 to rising underground act A Loss for Words. Sparking a re-generation in the genre, Fireworks hit the scene properly in 2009 with the release of 'All I Have To Offer Is My Own Confusion', and have since spiralled into the dizzying heights of being labelled one of the best at what they are doing.
'Gospel' carries on exactly where they left off, and without messing around and writing a load of synonyms about what it sounds like, this record is simply outstanding. They strike the perfect balance between the two areas of the genre, the pop bit and the punk bit, whilst also mixing melody with pace amongst various other things. From 'Arrows' all the way to 'The Wild Bunch', this record does not falter one iota and no-one can argue with this whatsoever, it's very rare that the perfect balance is somewhat finely appreciated by listeners as well as bands.
Upbeat, energetic, with driving melodies and heartfelt, nostalgic lyrics, there is nothing that this album does not include. References to films and a bit of every cult po- punk band that has existed in the past decade, it is a nod to everything that is possible when you just put your head to something.
Definitely in its own league in terms of pop-punk releases so far this year, and probably being some people's most favourite record, it will no doubt be on the lips of fans for years to come, and rightly so. Simply superb!
Written by Dom Wyatt
Founder & Editor for DEAD PRESS!