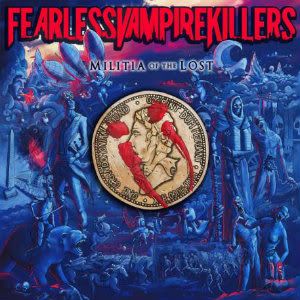 Release Date: May 14th, 2012
Label: Goremount Records
Website: www.fearlessvampirekillers.co.uk
Facebook: www.facebook.com/wearefearlessvampirekillers
Twitter: www.twitter.com/fvkillers
Rating:


Fearless Vampire Killers are an honest, death pop band who claim to be living in a cramped two-bedroom flat in London. Well, after the release of their new album 'Militia Of The Lost', hopefully they might be able to afford a three bed. Originating from somewhere called the Waveney Valley, which apparently is on the border between Norfolk and Suffolk, the band moved to London in hopes that somewhere, someday, someone might notice them. That day is today.
First there was the KISS Army, then the BVB Army, and in a few years time you'll be seeing the FVK Army. Not only is this make-up wearing, head banging, plate smashing band exceptionally good at delivering deep, sleazy beats which is nothing but obvious in tracks such as 'Could We Burn, Darling?' and 'Bow Ties And Dead Guys', but these renegades and misfits create music that unite people and bring everyone who resembles an outcast together as one.
Opening track 'Necromania' is a song that sounds like something Fall Out Boy would write after being tortured by Satan himself. This song kicks off the album with a booming start, with wild guitars and flawless vocals, then bringing it down with a random but tasteful leisurely reggae bridge.
'Concede. Repent. Destroy.' and 'Palace In Flames' sound like poppier versions of Avenged Sevenfold. If My Chemical Romance never released 'The Black Parade', this is what the output would be. Songs like 'The Pleasure Of The Pain' and 'At War With The Thirst' enhance a heavier, punchier influence with rumbling bass lines and booming drum beats over the reckless vocals.
If you're one of those people who USED to like My Chemical Romance and Funeral For A Friend before they went all mainstream, then you'll be pleased to find Fearless Vampire Killers. This album is a blast from the past to anyone who once grew up wearing three studded belts at one time and one converse a different colour from the other.
This old school pop-rock "emo" grunge music is something that until recently was presumed dead. But FVK have brought it back, but only what was fun and fundamental about it – they left those god awful emotional lyrics behind… thank god.
Written by Louisa Smith