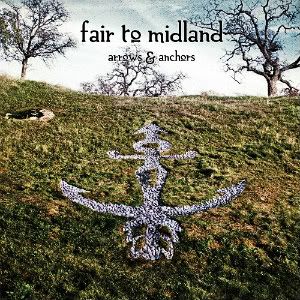 Release Date: July 11th, 2011
Label: E1 Music/Serjical Strike Records
Website: www.fairtomidland.com
MySpace: www.myspace.com/fairtomidland
Rating:


I've got to be honest, I always thought Fair To Midland were an emo band. Maybe it stems from the fact that scene kids have a bizarre infatuation with them… I don't really know. On further plundering, I have in fact discovered that they are a rather catchy prog band. Another thing which surprised me is that they are signed to Serj Tankian's Serjical Strike Records, and that he has collaborated with them on live shows. Their fourth album 'Arrows & Anchors' is a strange affair, with nice alternative rock songs interspersed with angry metal songs, much like if Incubus and System Of A Down had a baby, but it somehow managed to fit in with the right crowd and still be cool.
After about the fifth or sixth listen, I've come to the conclusion that the only band I can compare them to is Karnivool. At one point I thought they sounded quite like Panic! At the Disco, but then I decided to slap myself repeatedly for knowing what they sound like. I saw somewhere that the genre of this album was 'folk metal' in parts, but I can't really see that. Second (first proper) track 'Whiskey And Ritalin' sounds quite like …And You Will Know Us From The Trail Of Dead at some points, and that continues a little into the album's main single 'Musical Chairs'. The choruses are both pretty catchy, and you will find yourself humming them long after you've finished. Track 4 is the best track in my opinion; 'Uh-Oh' is the one that I thought sounded quite P!ATD-y, and it probably will become a single if this album sticks with listeners. 'Amarillo Sleeps On My Pillow' is another strange one; it sounds almost bluegrass in parts, but then you've got the driving guitars going along with it all and it makes the whole thing sound like something you might hear on Christian radio.
After a nice little instrumental track to calm the mood comes 'Short Haired Tornado', which is the sort of thing you might listen to if you were walking through the set of Postman Pat. I half expect Mrs. Goggins to start chasing me down with the mail or something. It's just a nice little village song. Compare that with 'Rikki Tikki Tavi'; a mixture between the former song and angry metal. The verses sound like Static-X, minus Wayne Static's rather impressive haircut.
There's a few more tracks that follow the same sort of formula, all incorporating something that I have neglected to mention until now: excellent keyboard melodies. Just as we think the album is finished, we're greeted with 11 minute 'The Greener Grass'; a real uplifting, easy to listen to track that you can just stick on and turn off to. The chorus of "I promise I will kill you right now" sounds rather vicious, but sung in a melodic voice it totally loses its tenacity and becomes soothing.
So yeah, I'm not sure why this band has been embraced so hard by scene kids, there's not a floppy fringe or whiney Facebook post in sight… maybe it's their Tenacious D.
Written by Martin Savage