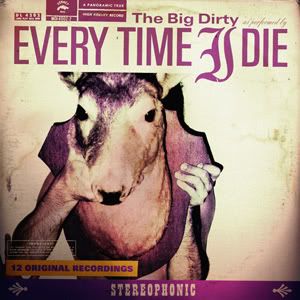 Release Date: September 4th, 2007
Label: Ferret Music
Rating: 8/10
Website: www.everytimeidie.com
MySpace: www.myspace.com/everytimeidie
Lots of bands go through constant member changes, sometimes this even leads these bands to split-up such as I Killed The Prom Queen. Every Time I Die is one of such bands, who seem to have little luck in keeping a permanent bassist, but they've stood strong and endured it all. With this they've created their newest labour of work, 'The Big Dirty'.
The album name 'The Big Dirty' is one of the best ways for anyone to describe this band's music. Everything they create is big in sound, and dirty and gritty within its layers. Throughout their entire career this is how it's always been, and hopefully it always will be.
You're instantly attacked with the band's full-force with album opener 'No Son Of Mine'. Crunching buzz-saw riffs and rampaging drums are plentiful, and they gain that extra push with the vocal work from Keith Buckley. His cynical and angry lyrics only add extra aggression into this piece, "Leave your drunken accident at the prom. / It'll grow to mend your broken heart." is evidence that this song is far from an uplifting and cheerful one.
Another stand-out moment on 'The Big Dirty' is 'Rendez-Voodoo'. The opening lyric line itself is yet another display of the band's sheer aggression which they bestow within themselves. "You'd better shove another piece of what's left in your mouth while the getting is good." yelled by Keith Buckley in a less aggressive manner than previously on this record. It seems much more of Southern Metal than their other 11 tracks, but they soon return back to familiar areas musically.
Hardcore/metalcore albums tend to sound similar throughout in a few of today's cases, but Every Time I Die aren't following that trend. Obviously they follow the clear conventions within their genre, but they've got much more to offer than what other bands have on their plates. The clean vocal work of Dallas Green from Alexisonfire found on 'INRihab' isn't far from beautiful, which ironically is found within the core of all this rage.
Admittedly they do hold moments which are very similar to others, but what band doesn't at times. The fact of the matter is they make their music exciting, intense, powerful, and within their lyrical work – aggressive.
If you're a hardcore/metalcore fan then owning 'The Big Dirty' is a must. Cynical, powerful, brutal, and intense throughout, there's definitely going to be many moments which you find exciting and enjoyable. And if you haven't even heard of Every Time I Die by now, then where the fuck have you been?
Written by Zach Redrup