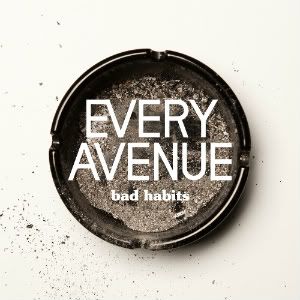 Release Date: August 2nd, 2011
Label: Fearless Records
Website: www.everyavenue.net
MySpace: www.myspace.com/everyavenue
Rating:

A band must be pretty decent, or very lucky, to have played in two consecutive Warped Tours. Either that, or they've got friends in high places. Every Avenue, on the basis of their new album, 'Bad Habits', have deserved all the good things that have come their way. However, it would be hard to say this listening to their previous two albums, 'Shh. Just Go With It', and 'Picture Perfect'. These albums were very much hit-or-miss, even though 'Picture Perfect' reached number two in the HEAT charts. They failed to reach the heights (being the sheer pop-punk cheek and enjoyment the band first brought to the fore) that their first self-titled album did, and Every Avenue fans clung on to the hope that they would one day, once again, return to the lambasting pop-punk that made people take notice of this exciting, full-of-potential, energetic band.
Pop-punk can be a hard genre to break through, and even when bands do this, they have to make a really big effort to stay noticed and to make a career out of what they do. They also have to have great belief in themselves and re-create a fresh sound – and in pop-punk, it's not as easy as it seems. Name some bands that have stayed around and you'll know for yourself exactly what I mean.
Opener 'Tie Me Down' is a typical Every Avenue song. Melodic, sunny guitars and well-paced drumming, along with a gluey bass and David Ryan Strauchman's well-fitting, engaging vocals make for a great start. It may sound a bit angsty and come across main as aimed at a younger age, but that's what pop-punk can also be about, isn't it? It's the genre that kids wanting to be different will warm most to, until they find their forte. The lyrics, however, shows the song's meaning itself to be much darker than its sound: "Tie me down and fuck me up tonight / Rip my heart out / Hurt me good before you say goodbye / Let's do this right now".
'Only Place I Call Home' is a song that will go down a storm with the romantics. Its gorgeous piano at the start that moves into a slow-paced ballad-esque track makes this a track that's sure to be a contender for release as a single. It is a major change for the band, compared to the rest of the album, but not a bad change. In fact, it makes the album stronger.
'Watch The World', the last track, is one that stays in your head long after it's over. Strauchman brings images to mind of lost summers, young friendships and youth dwindling away. It should be a sad song, but it's not. It doesn't just show the band growing up, but signifies a change for the band's fans too. Their first EP was released in 2004 and the fans have grown up alongside the band over the years. It shows Every Avenue possibly veering away from pop-punk for their next release.
This album will be a hit with the fans, but if it's your first listen to Every Avenue then their first album may be a better choice. On the other hand, though, it is a good album and is bound to be in a pop-punk album list of the year somewhere.
Written by Rhys Milsom