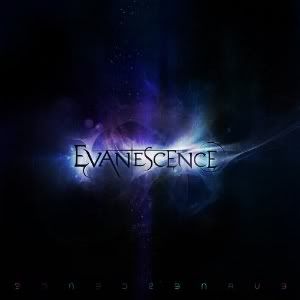 Release Date: October 11th, 2011
Label: Wind-Up Records
Website: www.evanescence.com
MySpace: www.myspace.com/evanescence
Rating:

Evanescence have always been one of those 'Marmite' bands, very much a love them or hate them affair. While the band have gained themselves many followers ever since their huge 2003 hit 'Bring Me To Life', there's also plenty of people who couldn't care less about Amy Lee and her merry men. 'Evanescence' is the band's third album, and while it may not do enough do convert the haters, there's still plenty here to satisfy their loyal fanbase.
The band's brand of goth-tinged radio rock continues in fine style with pianos and string sections playing an integral part in the band's sound and gracing many of the tracks on the album. Far from being shoe horned in for the sake of it, the band's atmospheric touches really bring a sense of grandeur to proceedings. They may not be the darkest band in the world, but there is a brooding undertone to their music that gives the band a more sinister edge than your average rock radio botherers though.
With that said, at their core Evanescence have always had a great pop sensibility, something that has allowed them to connect to a much larger audience than many of their doppelgangers. Songs such as lead single 'What You Want' and the colossal 'My Heart Is Broken' are the very definition of rock anthems and seem custom written for repeated spins on radio and TV. While there may be some who sniff at their mainstream leanings, there's really no arguing with some of the choruses offered up here.
The star of the Evanescence show has always been singer Amy Lee, such to the point where she essentially is Evanescence. Credit where credit is due though, as she does more than enough to earn her rock star stripes with a fantastic vocal performance throughout. Her vocals on this album have the power to really raise the hairs on your neck on songs such as the sweeping 'Oceans' and the almost Nine Inch Nails dark electronic closer, 'Swimming Home'. It's nothing short of dazzling and proves that she's more than worthy of being in the spotlight.
As stated earlier, a large number of people will know their feelings on this album before even having to listen to it. However, for anyone with even the slightest passing interest in Evanescence, this album is well worth checking out. While it may not exactly be full of surprises, Evanescence deliver everything that could be expected of them, and the end result is one of the finest albums of their career.
Written by Gavin Lloyd