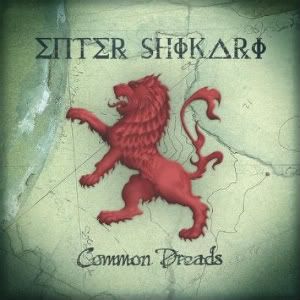 Release Date: June 15th, 2009
Label: Ambush Reality
Rating: 8/10
Website: www.entershikari.com
MySpace: www.myspace.com/entershikari
With the St. Alban's debut 'Take To The Skies', four-piece Enter Shikari brought mainly old songs which over time they had perfected and honed over years of shows, re-writes, and various re-recordings. So when album number two was coming along and the band announced it was going to have a political and economic driven influence aswell as having to write entirely new material, many had doubts as to how well the boys could pull it off. Come June 2009 and 'Common Dreads' is the end result, delivering exactly what the band had said they would in their post-hardcore/trance fashion. With the world in such a shit state right now, many bands are having their say about it, though no-one thought that Enter Shikari would be one of such bands – but maybe they were always in some sense trying to deliver an important message in a more metaphorical sense.
The sound of Enter Shikari hasn't altered much over the past two years, if anything they've only matured and expanded their capabilities. 'Solidarity' soars things off with a fast-paced trance intro taking us to frontman Rou Reynold's yelled "Here tonight I clock a thousand heads / Here to unite through common dreads"; summing up the whole album's message in just one sentence, before galloping to a choir assisted climax. Lead single 'Juggernauts' contains much of the same properties – the quick lead synth riff along with a balance of clean Mike Skinner-esque vocals, with little bursts of screams here and there. This time around, the band has even dwelled into much heavier and chaotic regions with 'Zzzonked'. The more dub-step influence on the music along with it takes the band and their sound onto new yet familiar ground for them to work upon, and clearly showcases Rou's deep anger upon the world's current state of affair. Where the synth is involved, things have clearly dipped into various different genres and chucking them into Enter Shikari's mix, and churned into different and experimental products – which have all turned out in their favour. 'The Jester' is definitely a weird one that will stick out, bringing in a funky almost metallic sounding dance input halfway through. Combined with its heavy and aggressive nature, you get confused as whether you should dance or mosh along to it.
Just as much as the band have brushed upon heavier sounds, they've still got the more mellow and radio-friendly inserts; such as 'No Sleep Tonight' and 'Wall', though still based around the album's overall message of current affairs. These two are definitely the more approachable and sing-a-long moments in the record – though admittedly they don't approach anywhere near the timid nature of 'Adieu' or 'Today Won't Go Down In History' from the band's debut effort. Fun memories of the member's times past come out in 'Hectic', referring to going "To the multi-storey car park with our friends / Drinking from a bottle of White Lightning" and playing "Sega Megadrive, Golden Axe and Sonic all day" helps bring the tone of serious to fun for a short moment.
Enter Shikari claimed they'd deliver the goods, and that's exactly what they did. 'Common Dreads' is a huge expansion and step up from their 2007 debut, and chucks in a load of new things whilst improving upon the old. In their own words, "Here comes another Juggernaut!".
Written by Zach Redrup