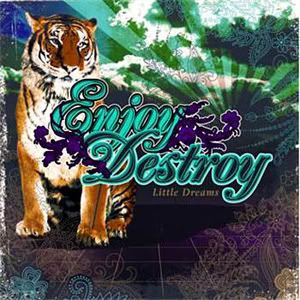 Release Date: March 17th, 2008
Label: Fire One Records
Rating: 7/10
Website: www.enjoydestroy.com
MySpace: www.myspace.com/enjoydestroy
When listening to 'Little Dreams', you'd find it pretty hard to believe that such talent and raw velocity would come from a band where the members are as young as under their 20's. However, Basingstoke's Enjoy Destroy seem to manage it with no problem at all.
Their album opener, and also first single release from the album 'Mactier' pretty much sums up in a nutshell what you're to find in the core of this record; emotional vocals, energetic music, and sing-a-long lyrics and chorus hooks plentiful throughout. The closing repeated lines "I guess it's just a matter of taste", phasing us off into the next 10 tracks of what is 'Little Dreams'.
As mentioned earlier, this album has plenty of catchy chorus which you want to sing, or in some cases chant along to. This is evident in tracks such as 'Cities' with the "Na-na-na, na-na-na", and a similar feature in the track 'Screamer', with a long sustained "Yeah!" brought in at various parts in the chorus. Enjoy Destroy know how to get these songs stuck in your head, and in most cases get you playing the song again, and again.
Although for the most part of the album you'll get the impression that Enjoy Destroy come off as sort of a younger, rawer, and arguably slightly more exciting version of Feeder at their heaviest, they also have their moments of mellowing out and taking things a little slower. The track the album takes it's name from 'Little Dreams' is just one of such examples, opening the track with a slow guitar riff and soft vocals drawing you ever so closer as the song slowly builds up into a climax.
'LBJ' has a similar effect too, with softer and calmer sections of the song being presented before the songs blows up into an explosive chorus. It also shows a darker a much more sinister side of Enjoy Destroy than you're likely to find in any of their catalogue to this date, with lines such as "How many kids did you kill today?" revealing something a little more macabre onto the listener's palette.
Enjoy Destroy are young, and though they have much more to learn and develop upon, they certainly have the time and the talent to pull it off. 'Little Dreams' has almost everything on offer; calm sections, moments that just explode, and catchy sing-a-long hooks just to sweeten your appetite.
Written by Zach Redrup
Founder & Editor for DEAD PRESS! | Atheist and antitheist. | Judge of the quick & the dead since 1989.