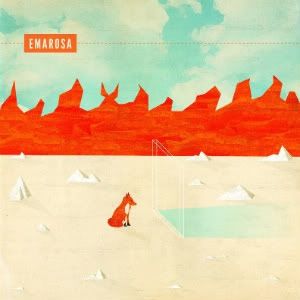 Release Date: June 29th, 2010
Label: Rise Records
Website: None available
MySpace: www.myspace.com/emarosa
Rating:

Fastly becoming a big name on both US and UK shores, Emarosa and their self-titled record are only gonna speed this process up further, with its ten tracks of soft post-hardcore gold. From the sometimes over extended and stretched out offerings from debut full-length 'Relativity', this self-titled effort is much more refined with much of the fat cut from it.
'A Toast To The Future Kids!' is this album's big opener, possessing a potential for a big hit live with a catchy punk vibe embedded within the pounding drums and gleefully invitiing guitar lines. As ever, vocalist Jonny Craig is the main focus on display throughout, hitting note for note perfectly and effortless top degree breath control at all times. 'Live It. Love It. Lust It.' and 'Share The Sunshine Young Blood' are the most convincing pieces of evidence for this, and show clearly how the band have progressed and improved since 2008's 'Relativity'.
Jonny's ongoing lyrical saga 'I Still Feel Her Part 4' definitely shines as the album's strongest track. Chorus hook "Well into the fold / We are, we are, we are too far too stop" is shot out with raw passion, and none different can be said for it's buzzsaw-like mid-section of "Wake up! Wake up!". All together helping it stand as one of their best songs to date. The curtains close with 'We Are Life', slowly and carefully lowering the intensity of the album from its soaring heights.
Post-hardcore at its most mellow, Emarosa are going places fast, and it doesn't look like there's any barriers in their way.
Written by Zach Redrup