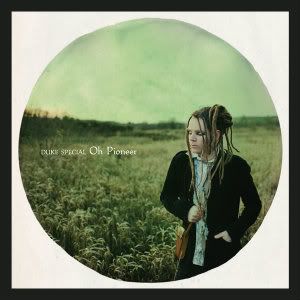 Release Date: June 18th, 2012
Label: Adventures In Gramophone
Website: www.dukespecial.com
Facebook: www.facebook.com/dukespecial
Twitter: www.twitter.com/dukespecial
Rating:

Northern Ireland is home to a number of rocks finest musicians; Van Morrison, Thin Lizzy, The Undertones and, of course, the more recently added to the scene, The Answer. But there's another talented musician lurking within the mists of the beautiful land of Belfast, and he goes under the name of Duke Special, or otherwise known by his formal name, Peter Wilson.
In a world full of generic sounds and endless copycats, Duke Special brings a genre that is entirely his own, combining indie/folk rock and beaten down romanticism, offering a completely new wave in the endlessly tiring radio waves of today's music. His second album 'Oh Pioneer' is sure to be a hit. This album doesn't just offer great music, but it takes you on a journey through one's own personal adventure with songs like 'Condition', which talks about how to find yourself in dark times and 'Twice Around The Island', which tells a story of a lonely pirate, finding himself at one with the open wide ocean.
Duke describes the album best: "Wooden Fingers Puppet Theatre Company, The Bank of Ideas, a banned Iranian children's book about a fish, a pirate who wants to retire, a bar man who hears people's stories whether he likes it or not, the human condition and late night conversations with friends on the roof of the 'Oh Yeah' building about your dreams are just a few of the ingredients to go into 'Oh Pioneer'".
With the elegant, heavenly pianos of 'Stargazers Of The World Unite' over the continuous drone of the strings and booming beats, this song is funky and fresh with infectious sing along lyrics.
If you like that Gotye song 'Somebody That You Used To Know', you'll probably like 'Little Black Fish', as it's just as upbeat and a lot less annoying as it doesn't get overplayed on every radio station. The evidently powerful song 'Punch Of A Friend' offers a relaxing, carefree vibe that is near impossible not to tap your toes along to.
Each song is as uplifting as the next, with catchy choruses and climatic bridges. With more than a handful of instruments used in every song, there's so much diversity in this album that is so distinct it's like putting white lace on velvet, and that's what makes this album so exciting. For fans of folk and carefree indie rock, you'd dig this.
Written by Louisa Smith