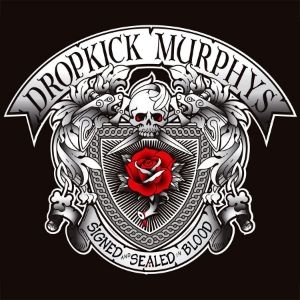 Release Date: January 8th, 2013
Label: Born & Bred Records
Website: www.dropkickmurphys.com
Facebook: www.facebook.com/dropkickmurphys
Twitter: www.twitter.com/dropkickmurphys
Rating:

Dropkick Murphys have long provided us with a unique blend of traditional Irish folk and hardcore punk aptly named 'Celtic punk'. After dabbling in concept albums, the band have returned to their roots no less than 17 years after their inception with this all out knees-up of a record.
'Signed And Sealed In Blood' is a raucous collection of pogo-inducing, fist pump-worthy Irish anthems. Immediately there's no messing with 'The Boys Are Back', a message the band perhaps felt needed to be said. It starts the record firing on all cylinders as a reassurance that they haven't lost their touch. 'Prisoner's Song' quickly ups the Celtic vibes even more for a true shanty. Gang vocals and marching drums invoke images of a beer fuelled shindig in the bilges of a ship whilst not feeling too outdated or irrelevant in today's music.
However, it's not all loutish chants as the album quickly takes a more sombre approach in 'Rose Tattoo', an ode to perhaps a lost love. The layered vocal choruses give an empathetic feel to the song, almost as if singer Ken Casey is drowning his sorrows with his friends by his side, making this the prime track on the record.
The record dips into ballads here and there, but mostly keeps to the up-tempo belters making for a super cheery listen. 'Signed And Sealed In Blood', and even Dropkick Murphys as a whole, are so lovable, it's hard to criticise them even if they are a bit of a novelty. Their musicianship and passion is more than commendable but, rather than simply taking influence from Irish folk, they're kind of just copying it which definitely prevents them from being taken too seriously in this musical climate. But who needs to be completely serious all of the time? It's actually quite refreshing to be able to let go of the austere judgements cast upon music and just enjoy it.
Dropkick Murphys are figureheads in the Celtic punk scene and, by returning to their roots with this record, they prove exactly why they haven't lost their touch and deserve their spot at the top. It has everything we know and love about them and so much more, this being proved by the single 'The Season's Upon Us', topping the band's chart success across their entire career. If you're ever in the mood for flowing ale and a hearty old sing-song, I suggest that you turn to this record.
Written by Jack Bastard