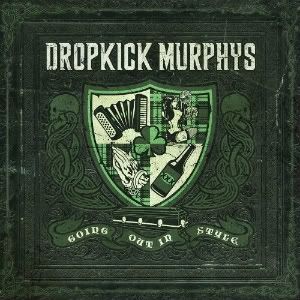 Release Date: March 1st, 2011
Label: Born & Bred Records
Website: www.dropkickmurphys.com
MySpace: www.myspace.com/dropkickmurphys
Rating:

This, the seventh studio album from the Irish-American Celtic punk veterans, marks the longest time between two Dropkick Murphys records, appearing four years after 2007's 'The Meanest Of Times'. 'Going Out In Style' is a concept album about a fictional character called Cornelius Larkin. It charts his story in first person accounts and in-depth interpretations by the band, as bassist Ken Casey says "Cornelius has passed on to the other side, and the album becomes a retrospective of his life".
The album begins in suitably raucous mood with 'Hang 'Em High', a party song about pirating and fighting, a perfect start to the album which sets the tone for what is to come, and reminds the listener what Dropkick Murphys are all about. The title track and highlight, 'Going Out In Style', features cameos from seminal US modern punk icon, Fat Mike, the Living End's Chris Cheyney and actor/comedian Lenny Clark. The track is the musical equivalent of a Friday night in a Dublin pub, with lead vocalist Al Barr singing, "You can stack me on a pyre and soak me down with whiskey / Roast me to a blackened crisp and throw me in a pile / I could really give a shit – I'm going out in style".
The party mood of the album is broken up with the more traditional Irish sounding 'Cruel', the pensive 'Broken Hymns' written about the American Civil War and '1953', a tribute to a girl that Larkin once loved. The partying continues once again with the banjo led acoustic knees up of 'Take 'Em Down', which the band dedicated to thousands of protesting Wisconsin Union workers, and the bagpipe heavy 'Deeds Not Words'.
American adult rock hero and Dropkick Murphys influence, Bruce 'The Boss' Springsteen, appears on their cover of old Alfred Bryan and Fred Fisher 1913 song 'Peg O' My Heart', and really adds an extra dimension to the track, complementing Al Barr's vocals perfectly. The album ends with a suitably raucous cover of traditional Irish song 'The Irish Rover', featuring a guest appearance from guitarist James Lynch's father Pat.
Overall, 'Going Out In Style' has all you want from a Dropkick Murphys album. The party songs, the traditional Irish covers, the mellower more pensive moments and the use of traditional instruments to complement their punk rock style. This, their first stab at a concept album, can be considered a success, the sentimentality of some of the tracks really give the album more variety musically, and it's this that makes the album one of the best that they've done, and a perfect accompaniment for St. Patricks weekend.
Written by Alex Mitchell-Fox
Founder & Editor for DEAD PRESS!