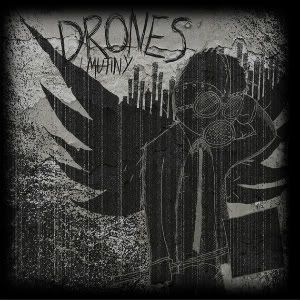 Release Date: December 5th, 2011
Label: Lockjaw Records
Website: None available
Facebook: www.facebook.com/dronesuk
Twitter: None available
Rating:

Although not an established band as such, Drones start as they mean to go on with their debut effort, 'Mutiny', straight from the opening track 'Jack Won't' right through to the record's concluding belter, 'Call Your Own'. These eleven thundering punk-rock tracks amount to a mere yet relentless twenty-five minutes.
With influences such as Anti-Flag, Gallows, Rancid and The Distillers, before listening to 'Mutiny', the listener can already begin to gauge how Drones may sound and on this occasion there were few inaccuracies.
Drones use fast-paced time signatures, simple yet effective Rise Against-esque riffs that soar over the top of pounding drums and underneath the snarled vocals of guitarist and vocalist Daly George who does a great job of keeping the sound of old-school punk and classic hardcore alive. What's most appealing about Drones is the sincerity and rawness of this impressive debut release. There is a simplistic and refreshing balls-to-the-wall edge with their distinctly social and political lyrical content that will as sure as hell appeal to the old-school punks that still remain in the 1970s, mohicans and all.
The Surrey lads are a band that would be fantastically at home on a bill with bands such as NOFX, Bad Religion and Alkaline Trio as well as the aforementioned influences aptly listed by the band themselves. The only criticism of Drones is that their sound is very specific to the ears of punk rock and hardcore fans, and it seems that if placed on a bill with a band that strays from the aforementioned genres, Drones may struggle to win said crowd over.
Needless to say though, Drones are a band that will flourish amongst the underground punk scene. Be sure to keep your eyes and ears out for them when they announce a show in your town.
Written by Luke Davis