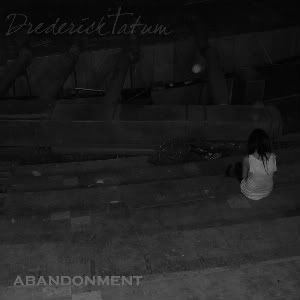 Release Date: February 4th, 2011
Label: Unsigned
Website: None available
MySpace: www.myspace.com/dredericktatumband
Rating:


According to their Facebook page, Drederick Tatum is a "melodramatic metalcore band" that hails from Chester in the UK. It's not a secret that Chester is not the metalcore capital of the world, and upon listening to the band's debut album 'Abandonment' this becomes ever more apparent. Whilst the album has everything you would expect from a metalcore album, the barked vocals, crunching breakdowns and interesting riffs, there's something noticeably different about this album.
Gary Challinor's vocals are delivered in a growling tone that's often not associated with the genre, and the long song lengths keep the album dragging on somewhat. Opener 'I Think There Has Been A Rape Up There' grabs the listener by the ear, not only by its clattering snare intro but also by the somewhat inappropriate song name. Another thing that grabs the listener's attention is the furious intro to 'I Am The British Beyoncé' as it roars into life. The listener will have to wait until the end of the album on 'Joey Doesn't Share Food!' as it varies up its style with interesting riffs and some good technical musicianship. It also features some of the best spoken word type clean vocals that feature throughout the entire album, which add a Confide sort of feel to the final product.
Whilst the album does have a few good songs, they're lost amongst the below average ones that fill out the better part of this album. Songs like 'You Buttered Your Bread, Now Sleep In It!' not only come straight from the textbook, but also possesses one of the stupidly long and ridiculous song titles that plague this album from start to finish. Whilst it's not in my nature to base an opinion of a band based upon their song titles, there are just some ridiculous ones on here. However, my main issue with the band is the use of repetitive riffs and dull breakdowns which doesn't make for an especially pleasant listening experience, something that's not aided by the poor sound quality on the recordings.
Sadly with the release making its appearance finally on the date of their farewell show, most people won't be able to experience and contrast the recorded piece with the rendition of the tracks in a raw live setting. Regardless most metalcore fans will find something on here, but if you're after something innovative and a dose of originality you won't find very much of it here.
Written by Oliver Thompson