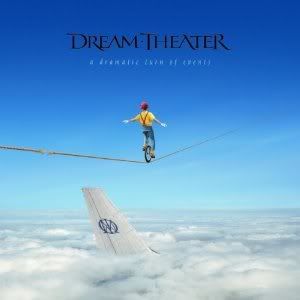 Release Date: September 13th, 2011
Label: Roadrunner Records
Website: www.dreamtheater.net
MySpace: www.myspace.com/dreamtheater
Rating:


Dream Theater are one of the best known metal bands out there. There aren't many other bands as technically proficient or as skilled at what they do, as Dream Theater. Since 1985, they've been leading the way in progressive metal and have been a major influence on many bands. They have been recognised for what they do on various levels: guitarist John Petrucci was named in the top ten guitarists of all time by GuitarOne magazine and has been invited on the G3 tour more times than any other player; former drummer Mike Portnoy has won 23 awards from Modern Drummer magazine and is the youngest person (37 years old) to be inducted into the Rock Drummer Hall of Fame; new drummer Mike Mangini has previously set 5 WFD records; and bassist John Myung was voted the greatest bassist of all time in a poll by MusicRadar. The band was inducted into the Long Island Music Hall Of Fame in 2010.
They have sold over 10 million records worldwide – the best-selling being 'Images And Words', which was released in 1992, and 'Black Clouds And Silver Linings', their 2009 release, reached number 1 in the Eurochart Hot 100. They are a band that don't show any sign of stopping, despite being over 25 years old.
This album is no different to any of their other works. It is full of excellent musicianship, top-class songwriting, and beautiful, haunting, incredulous music that's got to be heard to be believed. 'Build Me Up, Break Me Down' has a heavy, punishing riff that is a constant throughout and meanders in the background, threatening to burst out at any moment. Mangini's drumming here is also pretty impressive. It's as if he's played with Dream Theater all his drumming life, and shows he was the perfect choice to replace the revered Portnoy. The solo is one that we've come to expect from Petrucci: technical, devastingly effective and one of extreme musicianship.
'Bridges In The Sky' is possibly the heaviest song on offer. The riff is meaty, and the drumming verges on a more severe form of metal than that of which Dream Theater play. The vocals of LaBrie show the listener that he is still one of the best around at what he does. The eerie opener also works well for the song, as it plunges the listener into the haunting resonance of the track.
'Beneath The Surface', the album's final track, opens with the sound of water dripping and a sombrely played guitar. The guitar, alongside a gorgeous strings section, makes for a dramatic and impressive effect. LaBrie's voice is at its most romantic here, and the whole dimension of the song is one of romanticism and of times gone by. It is a fantastic ending to a brilliant album.
This is yet another album that shows Dream Theater as one of the best bands in the world. Let's just hope they can keep on going for another 25 years.
Written by Rhys Milsom