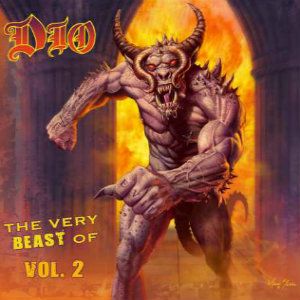 Release Date: November 12th, 2012
Label: Roadrunner Records
Website: www.ronniejamesdio.com
Facebook: www.facebook.com/officialronniejamesdio
Twitter: www.twitter.com/officialrjdio
Rating:

Even before Ronnie James Dio's sad passing, the legacy of his work was undeniably one of the most revered in metal history. With a voice unmatched in sheer majestic power and a glut of timeless songs, there is certainly no concern that the great mans music will ever be forgotten, and with this second instalment of a fantastic career retrospective, we have yet another not untimely reminder of the enduring mastery of this iconic material.
Spanning the final four Dio releases, die-hard fans could spend hours squabbling over which tracks should have been included or omiited, but it's fair to say that even with the classic material fully explored, there are a few rather exciting gems here for even the most hard nosed devotee. The ultra rare 'Electra' and 'Prisoner Of Paradise', both the towering, grandiose Dio standard we have come to expect, are assured treats for any hungry collectors.
Indeed, for those who may not be so familiar with Dio's work, 'The Very Beast Of: Vol. 2' acts as a excellent introduction to perhaps the more under appreciated end of the spectrum. Songs such as the driving 'Killing The Dragon' and the groove laden 'Black', all soaring melodies and fiery guitar leads display exactly why Ronnie James Dio continues to influence and inspire. The grit and mettle he poured into every track brought a real sense of gallantry, a lofty, formidable ambience which has informed metal to this day.
It's pleasant to see that 'The Very Beast Of: Vol. 2' is not simply a cynical cash cow. With the wealth of surprise inclusions and a rather thoughtful, considered tracklist, what the album does is not only provide a introductory insight, but also a memorial for purists who wish to remember Ronnie at his spectacular prime.
Written by Tony Bliss