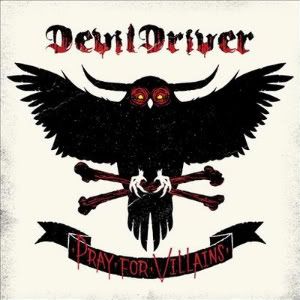 Release Date: July 14th, 2009
Label: Roadrunner Records
Rating: 8/10
Website: www.devildriver.com
MySpace: www.myspace.com/devildriver
Californian five-piece DevilDriver made their mark in the metal world in 2003 with their self-titled debut. The distinct vocals from frontman Dez Fafara caused people to stop and pay attention, and soon enough the band's ferocious sound was loved by metalheads everywhere. With the help of prestigious label Roadrunner Records, the quintet went on to release 'Fury Of Our Maker's Hand' and 'The Last Kind Words', two striking albums that took their sound to extremes.
Three years since their last full-length and the band are ready to showcase their fourth masterpiece, 'Pray For Villains'. Upon first listen, it really comes as no surprise that it's one of the most anticipated albums of 2009. From the second opening track 'Pray For Villains' begins you are sucked into a fierce and vicious record that does not stop for air. This album stresses how versatile DevilDriver are: 'Back With A Vengence' sounds like a cross between Slipknot and Velvet Revolver, where as 'I've Been Sober' could quite easily pass as a Dragonforce and Lordi collaboration. It is also very clear to see that Fafara has developed as a lyricist and has made the songs a lot more personal – on 'Teach Me To Whisper' he screams "Another day, another decision / One that eventually affects us both / Teach me to whisper 'cause I feel like screaming". Other stand-out tracks include 'Another Night In London' and 'Bitter Pill', both of which flaunt the more melodic side to the metal band.
'Pray For Villains' is an immense record, however in certain places it sounded a little too similar to their previous record and shows little musical progression. This is by no means a bad thing and fans are without doubt going to love it regardless. The thirteen tracks on this album are overwhelmingly good and needless to say DevilDriver have done their utter best to outdo themselves. The Californians have once again taken their musical genius and pushed it to the limit their known for. With nearly an hour of music that is both melodic and brutal, it's safe to say that this record will be a hit with fans of the band. 'Pray For Villains' will undeniably sound amazing live, resulting in what can only be an unbelievable reception during their UK tour later this year.
Written by Kate Rees