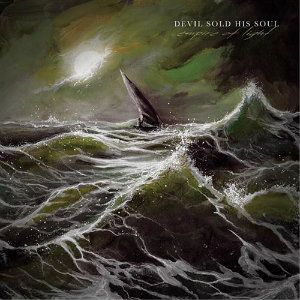 Release Date: September 17th, 2012
Label: Small Town Records
Website: www.devilsoldhissoul.com
Facebook: www.facebook.com/devilsoldhissoul
Twitter: www.twitter.com/d_s_h_s
Rating:


Very few bands can journey through different extremes of music and pull it off as majestically as London based post-hardcore outfit, Devil Sold His Soul. Despite musically performing some of the more intricate and beautiful yet heavy and organic material known in the scene, DSHS are one of those bands who are deserving of far more accolades and praise than they have received to date. Now, with album number three under their belts, 'Empire Of Light', it really seems like 2012 might be the year things finally pay in their favour.
A trait that DSHS have always been the proud bearers of is creating fantastic album openers and thankfully this time around is no different. 'No Remorse No Regrets' dunks your head right into the deep end from the off, where in those depths you are happily attacked by piranha teeth sharp screams from Edward Gibbs nearly penetrating your ear drums, battalion riff work and a pummelling bass and drum section that really gets you on the edge of your seat.
Following track 'A New Legacy' keeps your ass cheeks firmly in place but for completely different reasons, offering potentially one of the band's more radio-friendly tracks thus far in their career. The chorus line "Fractured breathing won't last / Always hoping for the best / Your intentions were never as good as our dream" should carry a 'likely to loop in your head' warning sticker. However, don't go thinking these boys have sold out, oh no. One thing DSHS need to be respected for, fan or not, is how they've stuck to their guns through thick and thin.
Their repertoire of creating music that is equally as beautiful as it is devastating has only heightened, as you'll find in the noteworthy gang chant found in 'It Rains Down', the anthemic 'Time & Pressure' and the epic to gauge all future measures of epic album closer, 'End Of Days', which sees sticksman Leks Wood give the Cadburys silver-back gorilla a run for his money as he savagely batters his drums near to death. Maybe he had a few bottles of Stella Artois before heading into the studio.
Though their more toned down pieces (see 'The Verge') certainly add another dynamic to the band's abilities, it's their crushing moments that stand as their strongest. The band drop a nuclear bomb in the mid-section of 'Sorrow Plagues', with Ed Gibbs leaving himself at his most vulnerable, almost screaming out his lungs from "Dig deeper into our hearts…" onwards.
The track that takes the crown however is 'Crusader'; the combined force of the chugging buzzsaw guitars and drum sound stronger than the battering ram forcing its way into Helms Deep. Once inside, the band goes full force, with sliding guitars act as the swords cutting, the drums bludgeoning, the bass quaking, the screams severing and the cleaning soaring heights that would even make Everest look miniscule.
Put simply, Devil Sold His Soul have managed to create an album that has topped all of their previous, providing more edge, diminishing character and relentless energy. Easily contender for one of the best releases of 2012, rarely does a band ever sound as majestic, apocalyptic, beautiful, towering and complete as Devil Sold His Soul do with 'Empire Of Light'. Not even giving this a change would not only be an injustice to the band, but also to yourselves.
Written by Zach Redrup
Founder & Editor for DEAD PRESS!