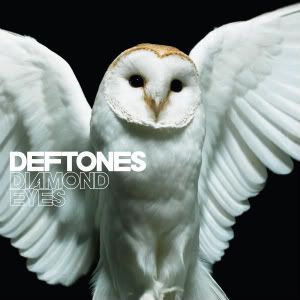 Release Date: May 4th, 2010
Label: Warner Bros. Records
Website: www.deftones.com
MySpace: www.myspace.com/deftones
Rating:

2008 was quite probably the roughest year in Deftones' career. Their long-time bassist and friend Chi Cheng was involved in a car accident which sent him into a coma, they scrapped their album 'Eros' and almost called it quits. Instead they equipped themselves with Sergio Vega in Chi's absence and gave birth to 'Diamond Eyes'. Scrapping 'Eros' could well be one of the best decisions they've made.
It's as etheral, abmient, beautiful yet aggressive as everything Deftones have churned out their entire career, except their seems to be an essence of hope and positivity that wasn't entirely there before. Opening title track throws you right into the deep end of this aesthetically pleasing 11-track record. The guitars are heavy and in your face with the bass following suit, the drum work is gut pummeling, and vocalist Chino Moreno hits the notes as effortless as ever with the potential to make even Sylvester Stallone weep like a baby. It's a sound and method that Deftones have managed to smack into perfect shape, and is almost what you could consider as a trademark – violent yet beautiful and inspiring – as is also seen in '976-Evil' and 'Beauty School'.
They don't just stick in middle ground and explore the extremes of each spectrums of their art. Fans of their more 'Around The Fur' and nu-metal-esque palette will be pleased with 'CMND/CTRL' along with the distorted and frenzied 'Rocket Skates'. These harsher waters are the equivalent of having your ears attacked by a group of ravenous sharks but not wanting them to stop. You're lifted out for a breather however with the cerebral and mellow 'Sex Tape', a sure way of calming you down from the quick-paced excitement before delving in a little longer with 'Risk'.
'Diamond Eyes' is an easy contender for Deftones' best record to date, bringing a mix of everything they're known and loved for and taking it to the next level. They're proud of it, you'll be a fool not to love it. Let's hope Chi will recover and get the chance to experience this soon.
Written by Zach Redrup