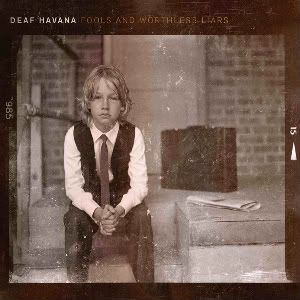 Release Date: November 7th, 2011
Label: A Wolf At Your Door Records
Website: www.foolsandworthlessliars.com
Facebook: www.facebook.com/deafhavana
Rating:

Whilst the change in Kings Lynn's Deaf Havana over the past year has been well documented; you cannot really begin to appreciate the change until you stick 'Fools And Worthless Liars' on and hear the chirpy folksy acoustic intro, 'The Past Six Years', and strangely the track is one of the best on the album. Since parting ways with screamer Ryan Mellor, the band has taken a more melodic approach to their song writing, recording and their live shows, but for me at least, something has yet to click, and for many critics, 'Fools And Worthless Liars' was the band's chance to show off their new approach and produce one hell of a rock album. Sadly though, this is not the case.
As I've said previously, the first song is good. It's a catchy, yet somewhat bizarre opening to the album, but that's beside the point. However, from here on in, the band appear dreary and fail to get out of second gear. Songs like 'I'm A Bore, Mostly' and 'Youth In Retrospect' sound like they could be so much bigger and better executed, which is a shame because the combination of sharp riffs and tuneful vocals is something the band pull off really well. The acoustic led 'Hunstanton Pier' in the middle of the album serves as nothing more than a weak filler track, and it ruins the already somewhat difficult flow of the album.
No doubt there are some massive songs here; single 'The World Or Nothing' is a huge, radio friendly number that will have you grinning all day long. The faster paced 'Nelsons County' and 'Filthy Rotten Scoundrel' are also pretty good, but when the best thing you can find to say about something is "pretty good", it pretty much speaks for itself.
The album itself is not bad, far from it; it is for intensive purposes a well produced, melodic and well written album that will have major labels wetting themselves at the prospect of marketing it to the masses. In terms of listening to it, I would say that unless you were a die-hard Deaf Havana fan, you may find this album a tad tedious and eventually boring, which really is a shame.
Written by Oliver Thompson