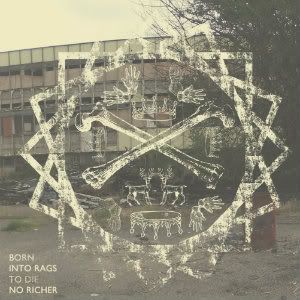 Release Date: October 29th, 2012
Label: Transcend Records
Website: None available
Facebook: www.facebook.com/deadharts
Twitter: www.twitter.com/deadharts
Rating:


Every band these days seems to have a good news story about their set at Download Festival 2012 and, as it turns out, so do Dead Harts. Their performance on the Red Bull stage this year was full of energy and reminiscent of sets from Heights and TRC, and look where those bands are now. With the release of their debut album, 'Born Into Rags To Die No Richer', the quintet will surely follow the well-trodden path to sub-popularity in the hardcore genre.
It's an awfully crafty move by Dead Harts to put their very first full-length out for free download, but their tactics become clear when you notice that an extended version of the album will be available for physical release in February 2013. Free downloads can be a risky business, but bands like Lay Siege have made it work for themselves, so why not? Of course, there's the obvious pitfall that they may in fact 'die no richer' from this idea.
The mindless drones who click through their daily downloads and actually listen to 'Born Into Rags…' will be met with 8 songs of rumpus and rambunctiousness. There's the off-kilter chord flailing of The Dillinger Escape Plan here, along with the attitude of Gallows and the punch of Brutality Will Prevail. This is an album that is designed to be transferred onto the live scene, with a lot of beefy songs and no one standing above the rest. If you just want a taster of 'Born Into Rags…' though, look no further than album closer, 'Smoke Wagons'. Here, you have opportunities to sing-a-long, along with plenty of moments for floor-punching and limb-waving.
Let's hope Dead Harts don't get fucked by this free release system they have opted for. One way you can make sure this doesn't come about is by going to their shows and buying their merch. They deserve to become a household name (well, a rat filled household populated by meth addicts).
Written by MG Savage