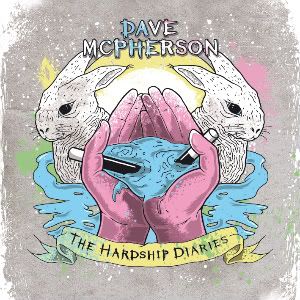 Release Date: May 16th, 2011
Label: Pledge Music
Website: www.davemcphersonsolo.co.uk
MySpace: www.myspace.com/davemcphersonsolo
Rating:


Dave McPherson is one hell of a busy bee. When he isn't writing music for his main band InMe or working on his techno side-project Primordial Soup, he's pouring his heart and soul into his solo acoustic work. Having been working on this album since late 2008, it has certainly been anticipated by fans everywhere. Although 'The Hardship Diaries' is his first debut album, he's released just over half a dozen EPs beforehand. For someone who is just 28, this is a mighty impressive back catalogue. Dave has been touring relentlessly to promote this album, as well as teaming up with Pledge Music too. After just one listen of the album, you can tell all his hard work is definitely worth it.
'The Hardship Diaries' is your perfect rainy day soundtrack. As you stare out of the window and listen to his collection of bitter sweet memories, you can't help but feel uplifted. Dave has always been good at writing lyrics, but this is something else, it's far more personal than anything in InMe. You will empathise with the self promises made on 'Last Year', thinking to yourself "yeah, I've been there". You feel angry when you hear the tale of love taken for granted on 'Love Rats'. No wonder this album is based on a diary-esque vibe, it's a collection of raw human emotions put to music.
The album takes the form of a year, split into 12 tracks, with every 3rd song dedicated to a season. Dave has perfectly captured the feel of each season in the music. The care free Summer melodies of 'She Puts Me In A Good Mood', the hope of Spring in 'Hearts Need Blood' and the Winter blues in 'Hibernation'. Each song is tailored to perfection to give the right atmosphere, like the swell of violins added here and there give depth to the more serious songs.
The guitar work throughout is sublime; each song is filled with the complicated finger-plucked melodies and carefully chosen chords. Coupled with Dave's soft soothing Southern voice creates a blissful tranquil sound. It may feel a tad samey and drawn out in places, this is still a masterpiece of an album. If you loved InMe tracks 'Turbulence' or 'All Terrain Vehicle', then this is a must-have for you. 'The Hardship Diaries' is a soothing and gentle album, where for 50 minutes, you can escape reality and just relax.
Written by Andy Roberts